UK MLK Center tells a 'love story' at Legacy Luncheon & Awards
UK's Martin Luther King Center gathered for its second annual Legacy Luncheon & Awards ceremony on Thursday, Feb. 2. 
According to UKNOW, the event was a part of "MLK Center Legacy Week," which aimed to commemorate the end of January, Martin Luther King Jr. Day and the start of February, which is recognized as Black History Month.
Other Legacy Week events included the Sister Circle & My Brother's Keeper semester kick-off, Becoming Self-Made: A Dinner Discussion Exploring Entrepreneurship and What's In a Dream: Open Mic Poetry Night.
The Legacy Luncheon & Awards closed a week of celebration and conversation and called attendees to never let social progress seize. 
MLK Center Director Ja'Mahl McDaniel opened the event by acknowledging the commitment of past and present MLK Center members to the mission of the organization.
A video message from UK president Eli Capilouto, who was unable to attend, praised the work of the MLK Center and congratulated awardees. 
Vice President for Institutional Diversity Katrice Albert described the awardees' work as "hope and of light," in contrast to the dark world that allowed for the death of Tyre Nichols at the hands of the Memphis Police Department this past January.
"As we start the month off celebrating the awesomeness of Black history and Black excellence and heart health awareness month, like the remarkable valves of the heart, this luncheon is essential to telling our love story," Albert said. "For more than 35 years the University of Kentucky's MLK Center has opened its doors and its heart to everyone on campus and the community."
McDaniel said the MLK Center hosted over 36 distinctive programs in the fall semester. She called the center's Plate of Discussion, Monthly Dialogue Series, Sister Circle, My Brother's Keeper, identity initiatives and cultural heritage events "notable" programs.
"To see so many folks from all different walks of life here to join us, to celebrate not only our legacy, but the work that they are doing to contribute to that legacy is really important to me," McDaniel said.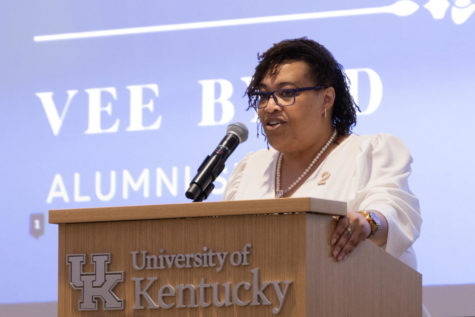 Commonly referred to as "Moma Vee" by her students, UK alumna Veleashia "Vee" Byrd also spoke at the awards ceremony.
She talked about her experience with the MLK Center as an undergraduate and the importance of building and leaving a lasting legacy.
"I really hope that the King Center spirit is still something that is invoked in students today because that is where I learned who I was, who I could be and who I wanted to be," Byrd said. 
Full list of Legacy Award Winners:
Leadership Legacy Award (undergraduate student) – Myka Smith-Jackson

Leadership Legacy Award (graduate student) – Ariel Robinson

Catalyst Award – Dr. Kendriana Price

Community Impact Award – the National Society of Black Engineers 

The Heart of the Beloved Award – Cindy Sossa