Softball receives first national ranking in history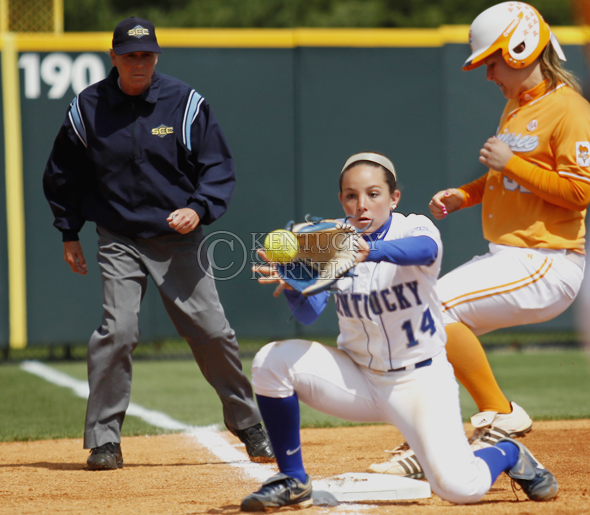 The Cats' softball program is off to one of its best starts in school history, but most hometown fans would not know it.
UK (11-3) presently stands near the end of a 19-game away streak consuming the opening third of its season. The team travels to southern-based tournaments for the beginning portion of its season due to weather constraints in Lexington. Such a schedule is appreciated, yet burdensome at times for the student-athletes.
"It makes schoolwork challenging, but the constant traveling is good for our team," junior outfielder Annie Rowlands said. "We are all very close so we don't mind the long bus rides. It gives us time to bond as a team."
Amidst regular travel, the Cats are emerging as a top-tier team in not only the Southeastern Conference but in the national picture.
The collegiate softball poll released Tuesday, shows UK as the 23rd ranked team in the country, the first time in school history the softball team has achieved a national ranking.
"It feels amazing to be part of this team," sophomore pitcher Chanda Bell said. "It is an honor for us, along with Coach Lawson, to be able to say that we have brought this program to this point."
Third-year UK head coach Rachel Lawson attributes the team's early success to the work ethic displayed by the group. After returning every player from a national tournament lineup, UK is expected to succeed.
"We've been working very hard for two years with similar teams," Lawson said. "We continue to improve as a team and it is nice to finally be recognized by others."
Bell has taken the mound for the Cats in seven games, producing a 6-1 record and a 2.12 ERA. Supporting her are sophomore Rachel Riley and senior Amber Matousek. Matousek completed the second no-hitter in school history against Evansville on Friday.
"A supportive team is the key to individual success," Bell said. "Our defense is playing great and we have been able to get the runs in that we need to win."
Senior second baseman Natalie Smith currently leads UK with a .359 batting average and is tied with a team-high 14 hits with senior shortstop Molly Johnson. Johnson also leads the team in home runs, stolen bases, slugging percentage, on-base percentage, runs scored and runs batted in.
UK now looks forward to hosting its home opener against Louisville March 10. The hometown fans, friends and families provide support the team does not receive while playing on the road in the early segment of the season.
The Cats' nearest competition will come March 5-7 in the Buzz Classic hosted by Georgia Tech. The team will face five opponents in three days; a predicament softball teams are accustomed to because of the steady tournament-play they endure throughout the season, Lawson said.
"We work hard every day to make sure we do what needs to be done," Rowlands said. "We are never settling."