Draft a bust around campus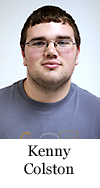 Draft, draft, draft.
It's all people are talking about this week (between talks about recruiting, obviously).
NBA Draft, NFL Draft, heck, maybe even the MLS Draft (just kidding, that one already happened).
But around these parts, specifically on UK's campus, the buzz has waned significantly. The obvious reason is the closest NFL team is at least an hour and a half away and no teams reside in this state.
The second, and probably less obvious reason, is what was once billed as the best NFL Draft former UK players would have in a long time has been a big bust.
There's at least two guys who were considered first round football talent at some point in their careers. The first, Micah Johnson, had his stock peak about the time he graduated from high school. The second, Trevard Lindley, watched himself slip from his position as the best corner in the Southeastern Conference and a late first round selection to the possibility of a Friday second round selection.
From two to zero means little to no interest in ESPN's primetime first round Thursday night, and slight interest in Friday. Maybe the diehards will watch the final rounds on Saturday, but I wouldn't count on it.
But UK's first round shutout since Tim Couch was drafted by the Browns in 1999 is a bit perplexing. It's not like UK players aren't succeeding in the league. Wesley Woodyard and Keenan Burton are two recent Cats slowly making a name for themselves in the NFL.
About half a dozen more players are on that same level and another half dozen are bouncing around on practice squads and as career backups.
With UK players, an NFL team is usually getting a high quality, solid character type of player with a nose-to-the-ground work ethic and usually a little bit of a chip on their shoulders.
And it's not like UK has a bad crop of talent trying to make it into the NFL. In addition to Lindley and Johnson, there's also John Conner, Corey Peters and Alfonso Smith, among others.
The stats may not be as impressive as others and this group didn't win any conference or national championships, but that doesn't mean this group doesn't have talent.
It does.
But then, as we all know, the NFL Draft isn't just about talent. It's about who you played for, how tall a player is, the name recognition and more. If the NFL Draft was perfect, they'd probably replace it with something imperfect, just because.
In the meantime, UK players will wait for days to hear their names called and to find out where their NFL careers will begin. UK fans will be more intrigued with the latest basketball commitment or this Saturday's Blue-White game. The draft will probably be an afterthought, the same way UK players have been to NFL teams.
Maybe "Operation Win" will change this notion or maybe it won't and UK players will still remain late round picks that excel under the radar.
Either way, as it stands now, the NFL Draft doesn't matter in these parts.