Railbird Festival returns – makes significant comeback after previous years of backlash
Railbird, a country music festival, took place at The Infield at Red Mile in Lexington June 3-4 and will be remembered in a more positive light than years past.
With renowned headliners, Zach Bryan and Tyler Childers, the festival attracted an almost overwhelming amount of attendees. 
At this time, there is not an official attendance number according to Vice President of Shore Fire Media Jaclyn Carter.
In a birds-eye view photo shared on social media by W. Michael Galliher, the masses can be seen covering more than half of Red Mile's infield during Zach Bryan's performance on Saturday, June 3.  
While this resulted in shoulder-to-shoulder standing room and an obstacle course of personal possessions to dodge, the experience and amenities Railbird provided outweighed the lack of personal space.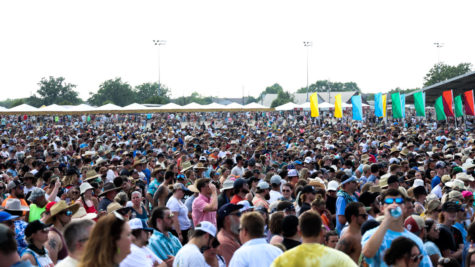 In 2021 Railbird was scrutinized due to the lack of water and employees to sell water for attendees in extreme heat, according to WKYT. 
Railbird was canceled in 2022 to make the much-needed changes to the Railbird experience. 
In a statement on social media on May 17, 2022, the Railbird team said that they had taken the feedback to heart and "are working hard behind the scenes to create an exceptional experience for the next edition of the festival."
Railbird also announced the new location, The Infield at Red Mile. The festival was previously held at Keeneland Racecourse.
Steve Brumfield, 50, said he attended the first Railbird in 2019 and wasn't sure how it would be at the new venue.
"I like the fact that we don't have to miss bands," Brumfield said. "Last time they would overlap with stages on opposite ends, so you'd have to miss half an hour of this person to see that person or vice versa."
Brumfield added that the new location seemed like a pretty good place and that there was more space in comparison to being at Keeneland. 
The Infield at Red Mile adequately accommodated 3 stages for performers: Limestone, Elkhorn and Burl. 
After mastering the art of weaving between the crowd, each stage was a short walk from each other and there was minimal overlap between the performers, ensuring that attendees were able to see every artist on their wishlist.
The Burl stage was presented by West Sixth Brewing, a prominent local alcohol vendor for the festival. 
According to Railbird's official website, the other alcoholic beverage partners included Bud Light, White Claw, Bulleit Bourbon, Justin's House of Bourbon and Cut Water Spirits.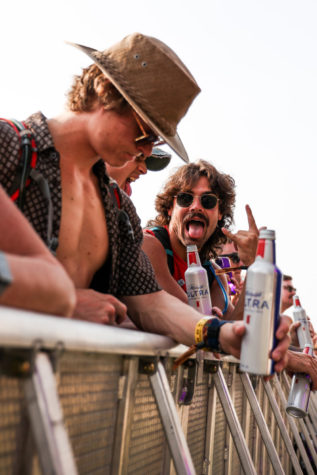 While the majority of attendees were partaking in various vendors throughout the weekend, West Sixth Brewing dominated the pricier side of the beer category. 
Bars, which also sold Liquid Death Water, Liquid Death Sparkling Water and Monster Energy, were easily accessible on multiple sides of the infield with moderately short lines and typical festival prices. 
The surplus of drink options was accompanied by various food vendors from across the United States. A highlight vendor with the seemingly longest line was Pizza Nova, a pizza catering company for music festivals and large events where attendees could purchase a "giant" pizza slice for $9. 
Attendees also took advantage of King of Pops during the incessantly hot temperatures. 
Headquartered in Atlanta with a successful franchise in Charleston, this southern popsicle chain strategically set up three popsicle stands across the infield for attendees to enjoy and cool off in 90-degree temperatures. 
Many attendees enjoyed their food, drinks and popsicles under the large shaded areas that Railbird provided for the festival. While these areas did not provide enough shade for everyone who needed it at once, a significant effort was made to ensure attendees' comfort during the heatwave. 
The sun did not silence the crowd. During the profound sets of Sheryl Crow, Weezer, Goose and Flipturn each performer brought their creative spunk that kept fans on their feet. Surrounded by a sea of head-banging, energy was high, lyrics were screamed and drinks were raised in celebration of a lineup that will be hard to forget.
The weekend truly became unforgettable when sobbing fans packed the Limestone stage for Bryan and Childers.
Opening his set with "Open the Gate" and closing with a fan-favorite encore of "Revival," Bryan's set created an environment where you had one thing in common with everyone – knowing the lyrics.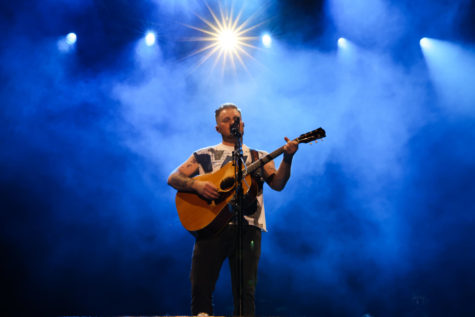 Bryan humbly thanked the crowd after every song truly putting on a performance that will be talked about for years to come.
With a tough act to follow in the books, Childers was set to close the festival on June 4.
Before his opening song, the Mayor of Lexington, Linda Gorton announced that June 4, 2023, will be known as Tyler Childers Day in Lexington.
This declaration ignited the eager crowd as many in the front row had been waiting hours for Childers. 
Eager to hear Childers' song "Purgatory," Chloe Kent, 23, started waiting for Childers' performance at 11 a.m. Childers went on at 9 p.m.
"He's been my Spotify number one artist for five years," Kent said.
Childers' stage set-up differed from Bryan's as there was a camera and an operator center stage obstructing the view of many people in front of the crowd. 
A shout from the crowd uttered, "We waited 10 hours, move the camera."
While the camera was obstructing many attendees' views, it was not obstructing Evan Roberts', 26, passion and respect for Childers.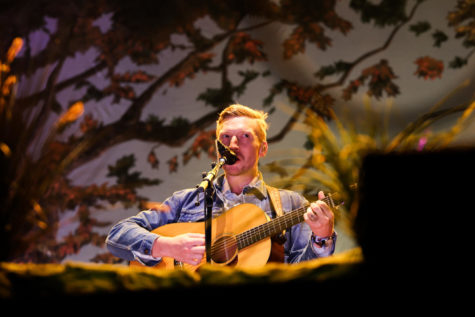 "Tyler Childers is this generation's George Strait," Roberts said. "Like George Strait said, there's been an awful murder on music row, they're killing country music, but Tyler Childers is bringing it back."
The irritated front of the crowd's mood shifted when Childers appeared on stage and opened with "Whitehouse Road."
Childers did not perform as many mainstream songs as Bryan throughout his set. A select portion of the crowd was not as involved as they were when Bryan performed, but thousands of phones went up in the air to record when Childers sang one of his most popular songs "All Your'n." 
While it will be difficult for Railbird to top this year's lineup, a repeat of this year's amenities will surely provide attendees with a similar worthwhile experience.