Public forum held for Vice President for Philanthropy and Alumni Engagement candidate
Preferred candidate for the position of Vice President for Philanthropy and Alumni Engagement Jake Lemon spoke to a room of staff and students on Monday, Feb. 20, in the Gatton College of Business and Economics. 
The forum served as an opportunity for campus community members to get to know Lemon and his vision and qualifications for the position as part of the hiring process. 
Lemon has been in contact with UK for over a year regarding this position. He is the preferred candidate as of now, and further consideration will be enacted following review of feedback from forum attendees.
It was not announced at the event when the hiring decision is expected to be finalized. 
Anyone with a linkblue ID can watch a recording of the forum and submit feedback here. 
Lemon currently serves as the CEO and President of the University of Connecticut Foundation, the school's fundraising department. He has worked in university philanthropy departments for the past 18 years, including at Florida State University and the University of Alabama Birmingham.
Lemon said these years of experience shaped him into a "solid" gift officer.
The UConn Foundation has closed its three highest fundraising years on record with Lemon on board, according to UConn Today. Lemon said that his team has doubled UConn philanthropy's production "from a sustainability standpoint."
Despite seeing such success at UConn, Lemon, a Mississippi native, wants to move to UK for personal reasons after losing some family members and feeling disconnected from loved ones over a year ago.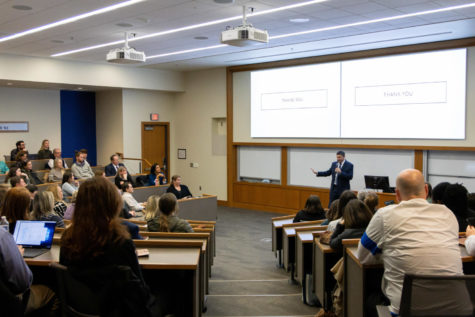 "The idea of coming back to the Southeast, drivable to family and friends at a major successful public flagship institution, is something that I've been looking at, and looking at very selectively," Lemon said. "I've gotten to know a lot (about UK), and the alignment in my mind just keeps moving in the right direction, the potential fit just keeps moving in the right direction, and that's why I'm here with you today." 
Lemon presented a 20-minute slideshow before taking questions from attendees. The slideshow allowed Lemon to explain his path to success in previous roles and plan to bring that to the role of Vice President for Philanthropy and Alumni Engagement at UK. 
Lemon's presentation emphasized the importance of flexibility in a leadership position, core values such as empathy, accountability and collaboration, clear communication and fostering authentic relationships with coworkers and donors.
These values are how Lemon builds and sustains what he calls "the winning team." 
"I think the worst thing right now, from a culture standpoint, is when decisions are made in a vacuum at the top, passed down, and you're just supposed to follow," Lemon said. "That's not what we do at UConn and that's certainly not what we would do here."
If hired, Lemon will replace Kentucky native and UK alum Mike Ritchey, who worked in philanthropy at UK for 25 years. President Eli Capilouto announced Ritchey's retirement via email in 2021.
During this time, UK raised "more than $2.5 billion to support scholarships and infrastructure," and Ritchey established a "foundation of excellence," according to the email.
At the forum, Lemon assured attendees that he won't try to be Ritchey but that he will keep Ritchey's legacy alive.
"I know the amazing work that Mike Ritchey did, I know that this job is a build-on-success job and builds on the legacy that he certainly created," Lemon said. "(I plan on) being me, being authentic and not trying to fake my way into being Mike Ritchey because I will never be Mike Ritchey. I won't have that institutional knowledge. I won't have that 'true Kentuckian' but I would be a warrior for the University of Kentucky and for this division and for everyone here."