'Strut Your Smile' fashion show funds dental care for those affected by domestic violence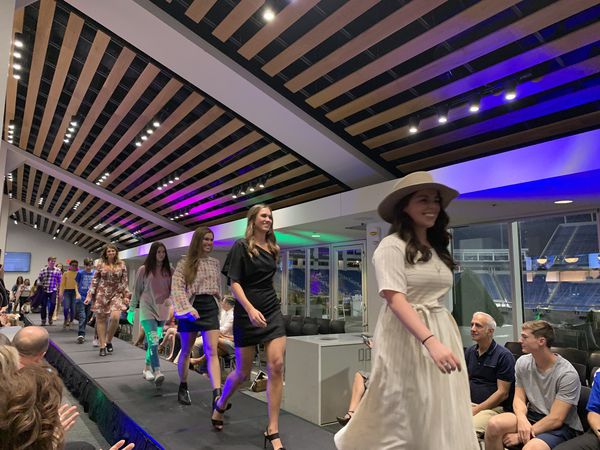 Woodford Reserve Club at Kroger Field was full of cheers on Friday night, but not for football— for fashion.
UK College of Dentistry's chapter of the American Association of Women Dentists hosted their 13th annual Strut Your Smile fashion show this past Friday.
The runway show consisted of clothing from boutiques and brands all across Lexington, including Kentucky for Kentucky, Still Mill and Co., Francesca's and numerous other brands.
Models were mostly dental students, their spouses and children, and a staff member or two. As a sort of tradition to show the fun of dental school, first-year students are usually those who model. Ellie Smith, first-year dental student said this tradition is what brought her and her friends to modeling in the show.
"It's a good experience to get out of your comfort zone," Smith said.
Aside from the runway show, the AAWD also hosted a silent auction portion of the event. Bidders had the chance to win numerous prizes ranging anywhere from Kendra Scott jewelry to a 10-night vacation package in Barbados.
Each division in the UK College of Dentistry puts together a basket for the silent auction, including "A Day at the Braces" basket with Makers Mark Mint Julep, race day snacks and a coffee break basket with an assortment of coffees and a Keurig Mini.
The local AAWD chapter hosts the fashion show and silent auction as a way of funding their current partnership with Greenhouse17, a Lexington-based domestic violence shelter for women, children and now men which serve 17 counties in central Kentucky. AAWD members provide free dental services, including everything from fillings to dentures, for those survivors who come to the shelter. Last year's event raised $14,000 toward the cause.
Dr. David Thornton, associate dean of clinical affairs for the dentistry college, has been emceeing the event for several years. Thornton said he used to live next to Greenhouse17, so he knew about the work they do.
He and his kids, who used to model for the event, both support Strut Your Smile simply because of the great cause it stands for. However, Thornton said the partnership with Greenhouse 17 also has a benefit for the students.
"It helps the student learn more about dentistry and also helps the women who need it," Thornton said.
Laurie Seegert, Greenhouse17 outreach advocate and unofficial liaison between Greenhouse17 and the College of Dentistry, said the partnership has had a very positive impact on the survivors as well. With the proceeds from last year's event, the AAWD was able to provide 14 women with the dental services they needed.
However, the impact of this program goes far beyond teeth.
Kris Bondarenko, another Greenhouse17 outreach advocate, said that this program gives survivors a form of empowerment that they may not have otherwise.
"Their batter is not going to support them getting (dental work) done because that's going to affect their self-esteem, and they want that self-esteem lower to have more of that power of control," Bondarenko said. "In a big way, you're really allowing survivors to take control of the themselves back and rebuild themselves and their lives."
Seegert and Bondarenko both said that these self-esteem issues are what can keep survivors from feeling confident enough to get a job and restart their life.
"It's so nice to be able to help these women, especially in the dental aspect," President of UK's local AAWD chapter Ashley Arnao said. "They really need it, and if we can give back to anybody, I'm really happy to give back to them."
Arnao and the rest of the AAWD members want to expand the event every year, in hopes that they are continuously able to help more and more women each time.