David Hawpe, former Kentucky Kernel and Courier Journal editor, dies at 78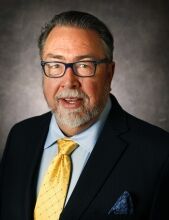 David Hawpe, a former editor for the Louisville Courier Journal and the Kentucky Kernel, died Sunday at 78 years old.
"He was from East Kentucky, the south end of Louisville, St. Matthews and Anchorage, but he really cared about the entire Commonwealth of Kentucky," UK alumnus and former Kernel editor Duane Bonifer said. "That matters when you're in charge of a newspaper that used to cover the whole state of Kentucky…He was not just a great student of Kentucky, but a great teacher of Kentucky's history. Every time I had a conversation with him, I felt like I learned something."
Originally from Louisville, Hawpe graduated from UK in 1965. During his time at UK, he was the managing editor of the Kentucky Kernel.
"He was always doing things to encourage us," Bonifer said. "He was one of our sharpest critics…but he was also, at the same time, the type of person who would look for ways to affirm us or to help us become better."
Hawpe began writing for the Courier Journal in 1969. He initially covered Hazard, Kentucky, but he was later a copy editor, an editorial writer and eventually the Courier Journal's managing editor. During his tenure, the Courier Journal won four Pulitzer Prizes.
Even after graduating, Hawpe stayed involved with the Kernel. Bonifer recalled how Hawpe publicized his support after the Kernel published a controversial 1990 editorial criticizing the selection process for UK's next president.
"We caught a lot of grief…It was sort of a challenging time for those of us on the Kernel." Bonifer said. "A couple days later…there was a lead editorial in the Courier Journal…[that] was very much a full-throated endorsement of our editorial…and it clearly came from the hands of David Hawpe.  I never knew if he actually wrote the editorial or oversaw the editorial and made sure it was published, but the fact that he did that was a great example of how David supported staffers of the Kentucky Kernel."
The Courier Journal described him as an "unapologetic liberal who championed school reform." He endorsed the Kentucky legislature's creation of the Research Challenge Trust Fund, which effectively doubled the amount of money given to university research. His areas of coverage at the Courier Journal included Hazard poverty and mine disasters. Hawpe also taught an editorial writing class at UK in the late 1990s.
"He was the ideal person to teach that particular type of journalism," said Scoobie Ryan, the associate director of UK's School of Journalism and Media. "He encouraged students to express their opinions, but opinions weren't good enough unless they could back them up with facts. He showed them how. He called on students to be bold and challenge the status quo. After a semester with David, those students had the skills and the confidence to do so." 
"Several of my friends took his course, and it was one of the best classes they had, not just at UK, but in their whole educational career," Bonifer said. "He always reminded people that there not just several sides, but several voices to a story."
After retiring from journalism in 2009, Hawpe served on UK's Board of Trustees from 2013 to 2019. He was also a member of the Kentucky Humanities Council, an editor at University Press, a senior aide to state senator Morgan McGarvey and a member of the Morehead State University Board of Regents. 
"He was such a strong advocate of not just getting a good journalism education, but having a well-rounded education," Bonifer said. "He was an encyclopedia of knowledge, not just about Kentucky, but about journalism…The ideas of compassion and empathy were very much central to what he preached."
Hawpe received many honors during and after his career, including the National Walker Stone Prize for Editorial Writing in 1999 and the James Madison Award for Service to the First Amendment in 2009. That same year, he was also awarded an honorary doctorate from Lindsey Wilson College.
"He was fiercely proud of being a Kentuckian. He wanted to make Kentucky a better place through journalism," Ryan said. "He cared about the School of Journalism and the Kernel. He was always pushing us to do more."
The Kernel is forever grateful to Hawpe for the work he has done for our paper, university and the state of Kentucky. People like him help us question issues for the betterment of our institutions.