Annual Christmas Price Index Reflects a Mostly-Reopened Economy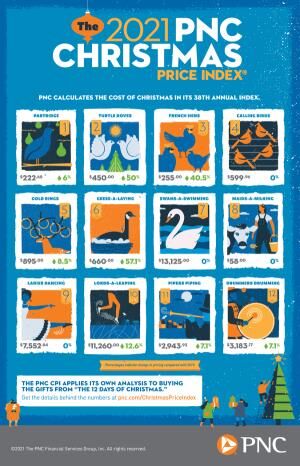 (StatePoint) Following a bah-humbug year for the country's economy, one economic indicator predicts that the 2021 holiday season may resemble 2019 more than 2020 when it comes to price tags on gifts.
Click Here to Enlarge Infographic.
A light-hearted take on the Bureau of Labor Statistics' Consumer Price Index, PNC's annual Christmas Price Index calculates the total cost of items bestowed by a "True Love" who repeats all the verses of the classic holiday song, "The 12 Days of Christmas." This year, purchasing the gifts would cost $41,205.58, a  5.7% increase compared to 2019.
"With most events cancelled in 2020, we removed 'Ladies Dancing,' 'Drummers Drumming' and other live performances from the Index last year, which resulted in an unprecedented 59% drop from 2019," says Amanda Agati, chief investment officer for PNC Asset Management Group. "We're trying to normalize the comparison by excluding a once-in-a-century pandemic that had an outsized impact on last year's data."
Taking 2020 out of the equation, Agati notes that both inflation and consumer habits are driving the rising costs of goods and services. Indeed, a tech-savvy "True Love" will spend an additional $4,394 by paying for the ease of e-commerce convenience and fulfilling their shopping online.
For more details, visit PNC's interactive website at pncchristmaspriceindex.com.
Holiday shoppers take note, with a mostly reopened economy, being a "True Love" this season may cost you.