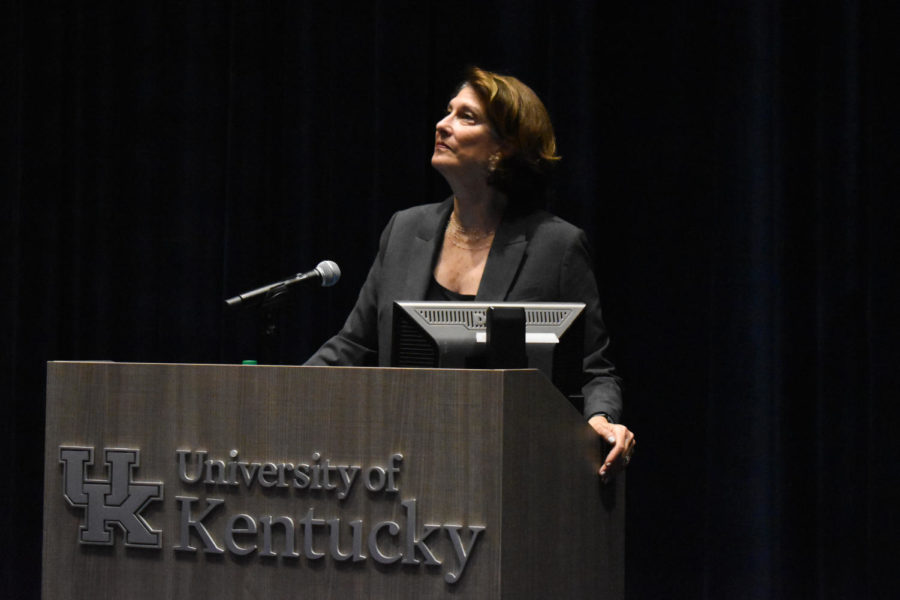 Abbey Cutrer
Nationally reporting journalist Mara Liasson encouraged the audience in her Sept. 15 speech on the University of Kentucky's campus to keep an open mind when covering politics because things are often not what they seem.
Liasson works as a correspondent for NPR and a contributor for Fox News and a panelist on "Fox News Sunday." She began working for NPR in 1985 and for Fox News in 1997.
"The other thing that I've learned from my many, many decades covering politics is that covering politics is a lesson in humility," said Liasson.
Liasson said that in her years of journalism, she has seen many changes in the dynamics of politics, but lately, she has been seeing more polarization.
She said that it used to be a joke that the media was also polarized, but that has become a reality. Liasson cited herself as the exception to that, saying she says the same things on both NPR and Fox.
"Too many of us look to the media for affirmation, not information," Liasson said. "You can't have a civil debate unless you start with the same set of facts and work your way to different opinions, as opposed to the other way around."
She offered the audience ways that American citizens can combat the polarization of the political climate.
Among her suggestions were being engaged and voting, running for office, having institutional reform, becoming more politically moderate, making election day a national holiday and having a redistribution of the population.
Liasson said that democratic institutions in America need to be reformed because they haven't been since the 1920s.
"Part of the American dream was if you work hard, play by the rules and get an education, your kids are going to do better than you. Well, that's disappearing, along with the rise of tremendous economic inequality," Liasson said.
Liasson also advocated for Americans to get involved and create more civic experiences, like a non-military option of a compulsory national service for people ages 18-20.
Doug Boyd, the director of the Louie B. Nunn Center for Oral History, said that he was most excited to hear Liasson speak about politics because it is at the forefront of many minds.
Boyd said that it is important for students to attend the event and others like it because it's good for them to engage with journalists who are working at the national level.
"Getting to interact firsthand with a national voice, and one that carries so much authority, is something that all students would be excited about," said Jennifer Greer, the dean of the University of Kentucky's College of Communication and Information.
Greer said that she was personally a big fan of Liasson and was excited to meet her.