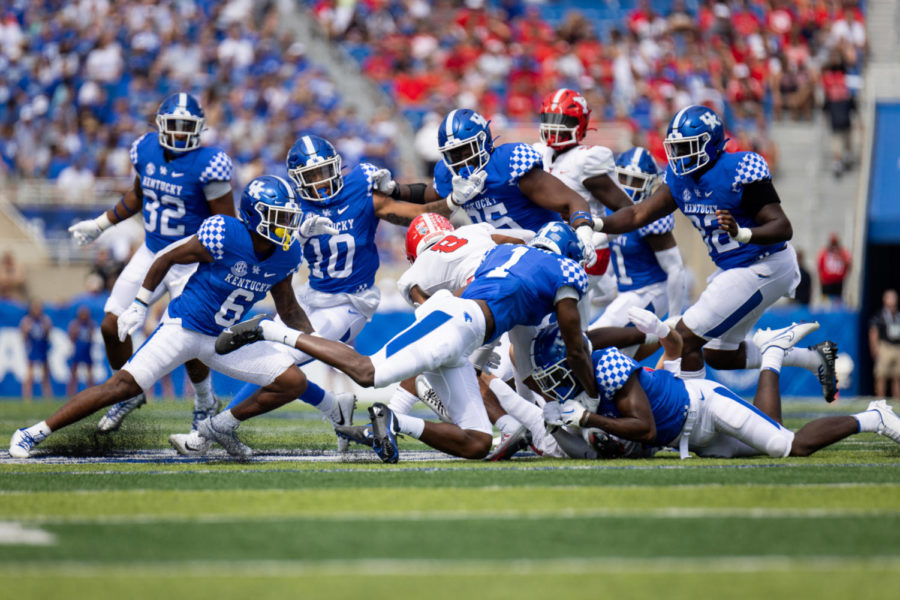 Jack Weaver
The "Across the (By)Line" series will give Kentucky football fans an in-depth look at their opponent for this week — from the mind of the opposing school's sports editor.
This week: The Northern Star, Skyler Kisellus, Northern Illinois
Coming off a season where NIU won the MAC, what has gone so wrong so far this season and which offseason loss do you think has been felt the most?
Coming off a MAC title, the expectations were high going into the season. The first signs of trouble came in the season-opener at home against an FCS team in Eastern Illinois. After building a dominating lead as most were probably expecting, they let Eastern Illinois make a comeback attempt. The Panthers' running game was a chore for the defense while their QB was delivering some impressive passes. They very well would've taken the game to overtime had the clock not ran out on them first.
Since that game, some of our play calls have certainly been head-scratchers. We've been having an itch to hand it off on first downs which teams, as expected, are wisening up on. Still hasn't stopped us. We also had a couple fourth down calls the other day that should've been punts, especially with a backup QB in the game and an SEC defense on the other side. If I recall correctly, Hammock himself took responsibility for that Vandy loss. I'd have to pin the "gone wrongs" of the season on multiple things: Part on playcalling, part on injuries, and part on the simple fact of facing more talented opponents.
NIU was fortunate enough to not sustain many major losses over the offseason. I feel they've been able to replace the production that Jay Ducker and Clint Ratkovich had here before they left. Kyle Pugh's return from his season-ending injury last season helps fill in the void left by Lance Deveaux Jr. I'd say the biggest loss the team has felt so far was not a departure, but rather an injury. NIU lost its top wide receiver, Trayvon Rudolph, right before the season started after he sustained a non-contact knee injury in practice. Rudolph opened up another dimension of the offense with his blazing speed. Although NIU's done well enough in their receiving corps with sixth-year Cole Tucker and two of our newest arrivals, Shemar Thornton and Kacper Rutkiewicz, it's hard to overlook what could have been had we had Rudolph's speed in certain situations.
Having said that, what is it about this NIU team that you think Kentucky will have the most issue with on Saturday?
The answer to this has changed quite significantly after our loss to Vanderbilt. Previously, I would have said that [Rocky] Lombardi and the passing game were going to give the Wildcats problems on Saturday. However, Lombardi sustained an injury in our last game that has a lot of uncertainty around it. He got a non-contact injury during a slide in our last game and we haven't gotten word on if he'll play or not. Our next man up is a redshirt freshman, Ethan Hampton. While he looked promising in the time he played in that game, it's hard for me to give him too much credit against a top-10 ranked team. Unless something changes where Lombardi returns by Saturday, I'd have to give the nod to our backfield. We have a trio of sophomore running backs, Harrison Waylee, Antario Brown, and Mason Blakemore, who are able to produce. I personally refer to it as our three-headed dog, like Cerberus.
Do you see this as a potential trap game for Kentucky? Could you predict NIU upsetting a top 10 SEC opponent?
As much as I'd like to believe that Kentucky might be falling into a trap, everything is pointing to NIU going 1-3 in the non-conference slate. The Huskies are now without their No. 1 options at quarterback, wide receiver, and tight end on offense (Miles Joiner tore his ACL last week). The defense is fresh off a performance that saw them get picked apart by a true freshman quarterback. Simply put, I don't think NIU will be pulling off any notable upsets this season. It'll probably be enough of a challenge going back to a bowl game as it is.
Despite Vanderbilt not being seen as a top tier SEC program, do you think NIU's game last week will have the team better prepared for the game this week now that the Huskies have already played an SEC opponent?
That Vanderbilt game will definitely help the team prepare for what Kentucky might throw at them on Saturday. NIU can learn from their past mistakes in any case. The real question is if they'll be able to execute and make those plays when they're needed. They were able to come on the winning side of many of those big plays last season. This season? Not as much.