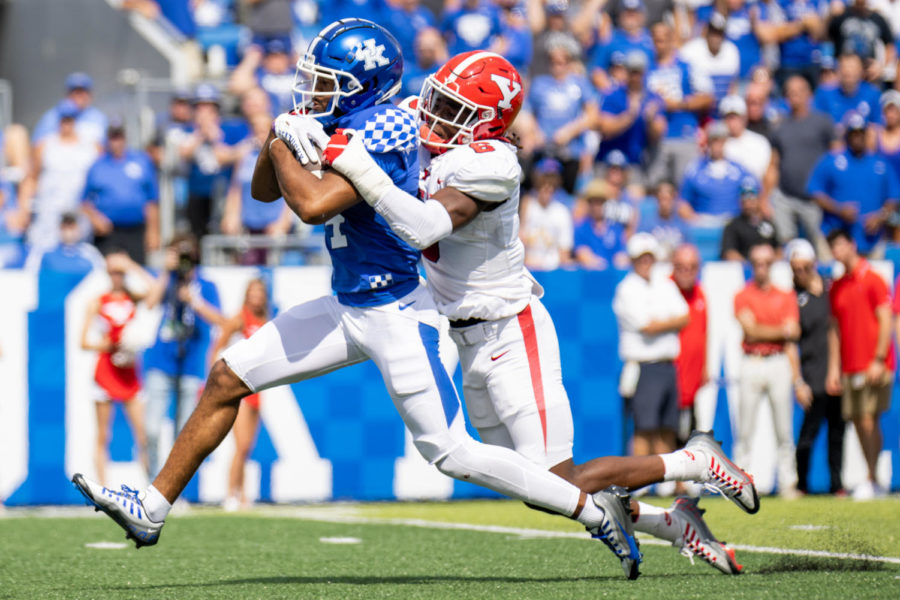 Jack Weaver
Coming off a 31-0 win over Youngstown State, the first shutout under current head coach Mark Stoops, Kentucky turns its sights towards its final non-Louisville non-conference matchup of the season: Northern Illinois.
The Huskies are fresh off a 9-5 season that saw them hoist the Mid-American Conference title and come up just short 47-41 in the Tailgreeter Cure Bowl.
That said, 2022 has been a very different year for the Huskies, who currently boast a 1-2 record, with the only win coming against an FCS opponent in Eastern Illinois.
The win was far from pretty as well, with Northern Illinois coming out on top 34-27, a one-score game.
Since that week one escape, NIU has fallen short 38-35 at Tulsa and most recently 38-28 to Vanderbilt at home.
One possible explanation for the significant drop in production is the loss of star wide receiver Trayvon Rudolph in the preseason to a non-contact knee injury that has had him sidelined.
To make matters worse, starting quarterback Rocky Lombardi sustained a non-contact sliding injury against Vanderbilt, leaving him questionable for the match against Kentucky.
The potential of Lombardi being out or at least limited leaves much of the workload expected to fall to NIU's sophomore running back trio.
Harrison Waylee, Antario Brown and Mason Blakemore will likely shoulder much of the load for the Huskies, with the team having rushed for 464 yards and 20 first downs on 102 attempts thus far this season.
If Lombardi is able to return with minimal limitations, the Huskies' pass attack has been even more lethal than the rushing game, having secured 654 yards, an average of 8.3 yards per pass.
Lombardi boasts much of the credit with 530 yards and five touchdowns, an average of 176 yards per game.
While not on the same level, backup quarterback Ethan Hampton is not incapable of slinging the ball, amassing 124 yards after Lombardi left the Vanderbilt match with injury, connecting on 63% of his passes for two touchdowns.
By far the favorite target of either QB has been Cole Tucker, who boasts 278 receiving yards for three touchdowns.
While not having as many yards with just 62, Kacper Rutkiewicz also boasts three touchdown receptions, likely indicating him to be a lethal red zone threat.
While the offense, barring injuries, may be stout, one thing NIU does not have going for it is a sturdy defense.
Never having been a dominant defensive team, the Huskies have allowed 1,298 yards of total offense, more than they themselves have amassed. They've also been out-scored by opponents 110-90.
Now going against a Kentucky team that has high expectations placed upon its offense, even without starting running back Chris Rodriguez Jr., thanks to the strong, but not always consistent, arm of Will Levis and the strong receiving unit that includes Tayvion Robinson, Dane Key and Barrion Brown.
Looking on paper, the only figure the Huskies have going for them is the trap game potential UK may be falling into.
NIU comes just one week before the Cats travel to Oxford, Mississippi to battle No. 16 Ole Miss in one of the toughest tests for the entire year.
Whether or not Kentucky is able to keep focus and put Ole Miss on the back burner to take care of business against Northern Illinois may serve as an important sign of the maturity of the team.
Whether or not this comes to fruition is to be seen, with Kentucky and Northern Illinois scheduled to tip off, with UK as a 26.5 point favorite, at 7 p.m. EST on Saturday, Sept. 24, inside Kroger Field with the game airing live on ESPN2.