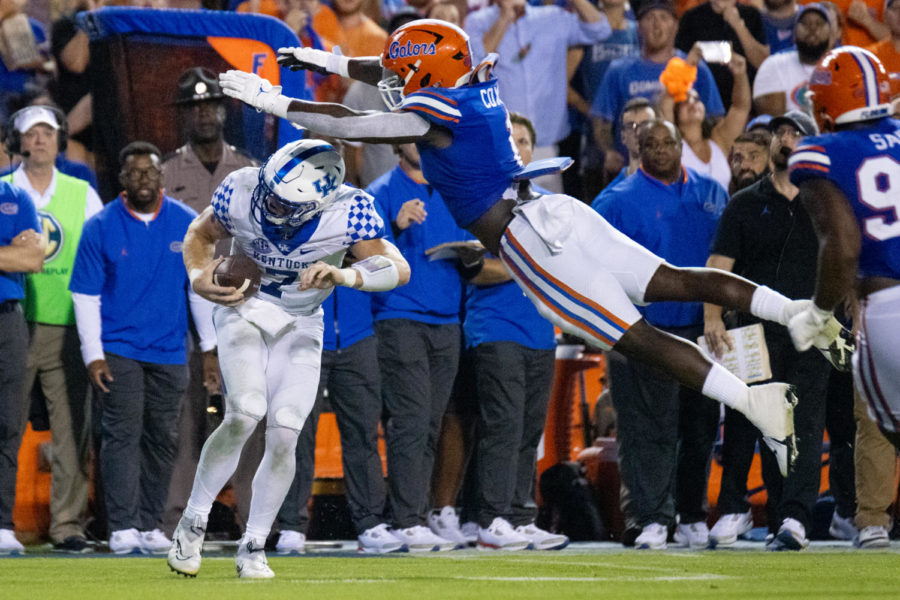 Jack Weaver
Call him what you want: a scrambler, dual-threat or just a jack-of-all-trades, there is no denying that Will Levis is not afraid to put his head down and run the ball.
In the 2021 season alone, Levis ran the ball 107 times compared to his time at Penn State where he attempted 133 rushing attempts during his two years with the Nittany Lions, ironically finishing his career in Pennsylvania having attempted more rushes than passes, as Sean Clifford held the passing quarterback duties.
Still, there was no denying Levis' potential as both a rusher and a passer.
Transferring to Kentucky as a junior, Levis immediately took over the starting role and has become the focal point in the now revitalized offense under Mark Stoops and offensive coordinator Rich Scangarello.
Being the main catalyst of the young but promising Wildcats offense, Levis knows that he must take leadership, but his coaches have said he should become more conservative on the run.
When Levis decides to run the ball, he will not stop until someone brings him down.
Standing at 6'3 and weighing 231 pounds, his rushes may be successful against smaller teams (both in size and prestige), but when it comes to revered opponents, Levis cannot be as reckless against the domineering defenses in the SEC.
Look at UK's trip to Florida in week two.
Fans' hearts catapulted into their mouths when Florida's defensive end Justus Boone came flying unmarked into the chin of Levis, knocking his helmet off as gasps filled the air.
While the hit was on a sack and not a rush, it is not uncommon to see similar hits on quarterbacks when they rush, especially ones that don't rush out of bounds or give themselves up at first danger.
Miraculously, Levis got up and shook it off like any other hit.
But what if he didn't?
On the depth chart, sophomore Deuce Hogan is next in line should the worst occur to Levis.
Since transferring from Iowa, Hogan has played one career snap for the Cats, being the play in which Levis was forced to head to the sidelines after his helmet came off and targeting was not called.
While he handed off the ball to Smoke, Hogan was probably praying that Levis could return soon, which, to answer Wildcat prayers everywhere, he did.
Most recently against Youngstown State, the Cats were able to establish the run game earlier on, using the partnership of Kavosiey Smoke and La'Vell Wright to kill the clock and gain yards.
Levis had one notable 24-yard run, but again, instead of sliding, Levis allowed himself to take the hard hit.
His dual-threat capability makes him both an unpredictable foe, and an offensive liability.
Levis might feel the need to tuck and run, mainly due to the lack of depth in the running back position with injuries and senior running back Chris Rodriguez Jr. still serving his suspension, and, while Smoke is a talented prospect, he fills the two back role alongside Rodriguez Jr. better than by himself.
It's possible we may see Levis ease up on his scrambling decisions when Rodriguez returns against Ole Miss, but that is still weeks away.
Not just a powerful runner, Levis is a smart runner until it comes time to give up and he takes the hit instead.
Perhaps he feels like his size might be able to keep him safe, being a strong and confident quarterback, with proof of his ability coming against Louisville in the final game of the 2021 regular season.
Levis ran for four touchdowns and compounded that with a gravity-defying hurdle, carrying the ball 14 times in that game, only two less than the starting running back Rodriguez Jr.
Of those four touchdowns, three of them were designed running plays for the quarterback.
Really, the brilliance of designed running plays for Levis is how unpredictable he is and how he can beat his opponents with his cannon for an arm or his strength, agility and speed on the ground.
Against the Cards, Levis lowered his shoulder on many of his runs, looking to "truck" his opponent into the ground.
Uncommon for most quarterbacks, Levis firmly believes that he possesses the strength and mental fortitude to, not just to escape a collapsing pocket, but to run with conviction and an eye for the end-zone.
Especially now, with the promise that this team now holds and the expectations that go along with that promise, Levis should begin to stray away from his sometimes brash scrambles and self-inducing hard hits, regardless of that conviction.
After all, it only takes one hit, one missed block or one wrong decision to end Levis' chance for glory and dash the hopes and dreams of the Kentucky faithful.