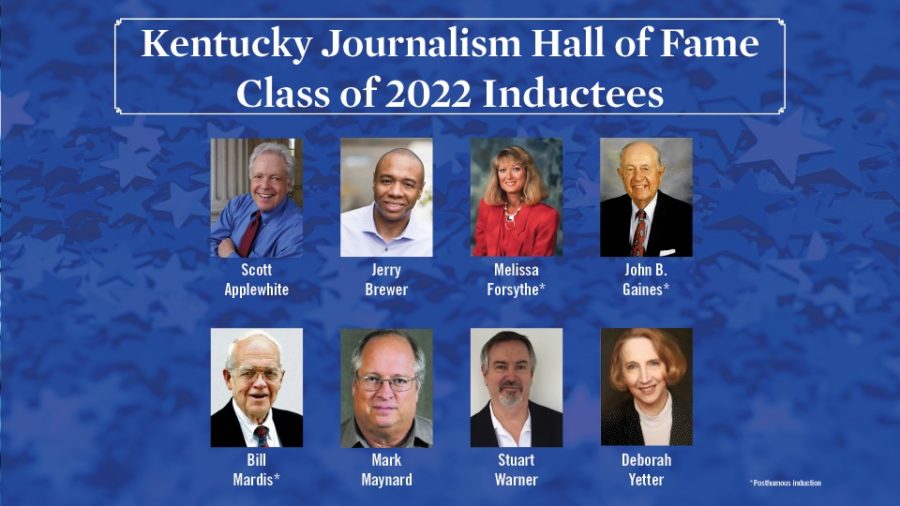 A group of Pulitzer Prize winners, First Amendment activists, investigative reporters, photojournalists, news television personas and Kentucky's community journalists will be inducted into the Kentucky Journalism Hall of Fame.
The Kentucky Journalism Hall of Fame will host an induction ceremony to welcome eight new journalists on Thursday, Sept. 22, at 5:30 p.m. in the Gatton Student Center Ballroom at the University of Kentucky.
This will be the 42nd class to be inducted into the Hall of Fame. The hall was originally created by the UK Journalism Alumni Association in 1980.
Nominees should have made a significant connection to Kentucky and have been active enough in journalism to establish professional contributions. The inductees are nominated by letter and chosen by the selection committee.
The selection committee includes the president of the UK Journalism Alumni Association, three earlier Hall of Fame inductees, directors with the Kentucky Press Association, and more.
The group of eight journalists selected has a large list of accomplishments including Pulitzer Prize award winners.
One of this year's eight inductees is Melissa Forsythe, who was a news anchor and reporter for WAVE-3 and WHAS-11 in Louisville. Forsythe passed away earlier this year, but her journalism career continues to affect the journalism world.
UK journalism professor Jen Smith said, "As a girl growing up in Louisville, I idolized people like Melissa Forsythe, where we got our news every day on the television. She introduced me to the idea that there are female journalists, working journalists, who can do it right and do it well."
Smith mentioned the other female inductee for this year, Deborah Yetter, who won major awards like the Pulitzer Prize and spent decades at The Courier-Journal.
"Deborah Yetter, when I was a little bit younger, won major awards based on investigative reporting that really helped our community and made it better, and seeing people like that was eye-opening for a young reporter who was interested in how things work," she said.
The remaining inductees for this year include photojournalist Scott Applewhite, sports columnist Jerry Brewer, Bowling Green Daily News President John B. Gaines, reporter and editor Bill Mardis, journalist Mark Maynard and sports editor Stuart Warner.