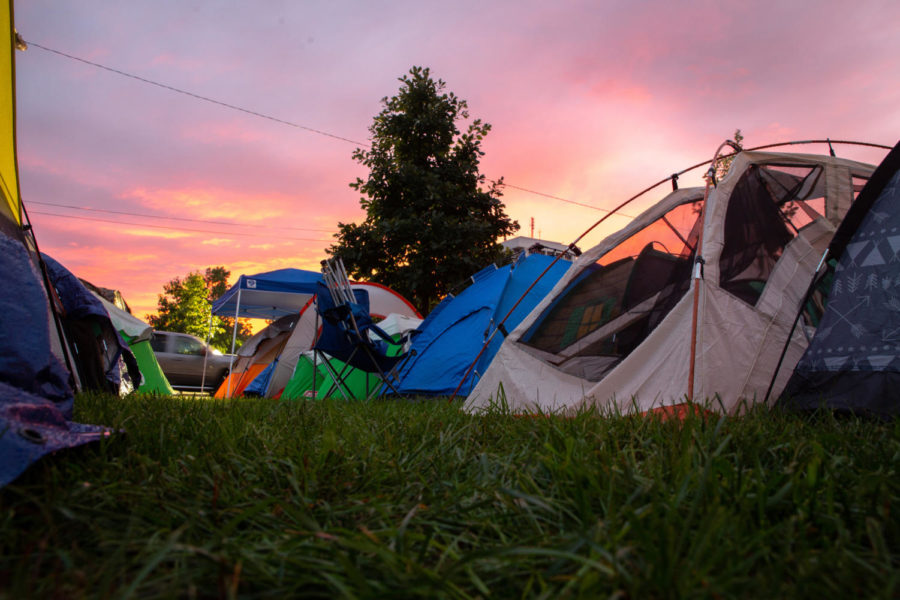 Jordan Prather
For the first time since 2019, Big Blue Madness will feature the Madness campout outside Memorial Coliseum.
The long-standing tradition is a staple of basketball season at the University of Kentucky with students pitching tents outside of the coliseum in an attempt to be the first to receive tickets for the event.
The Madness campout had been a staple of the event for years prior to the Covid-19 pandemic that saw the university put a stop to the large group campout.
Now that it's back, fans are permitted to bring their tents beginning the morning of Oct. 1 at 5 a.m. EST with the box office opening at 9 a.m. EST on Oct. 2.
UK Athletics confirmed the return of the campout on Tuesday in a joint announcement that also confirmed the date of Big Blue Madness to be Oct. 14.
This highly anticipated night celebrates the beginning of the Kentucky mens and
womens basketball seasons where fans cheer on returning and new players alike in a blue-white scrimmage inside Rupp Arena.
With the stands often just as packed as any regular season game in Rupp Arena, Big Blue Madness has garnered a reputation for being a very energetic and passionate event.
While the annual event still took place in 2020 and 2021, the Covid-19 pandemic ended the campout for two years with UK only now feeling comfortable enough to allow new students and fans to experience this tradition.
Even with in-person classes and on-campus activities resuming in 2021, the university still enacted a number of Covid-safe measures in an effort to attempt to prevent having to close the campus once again, with 2022 being the first year of 'normalcy'.
In the past, campus officials have had to turn away students with the number of tents reaching
maximum capacity multiple times with the 2019 edition featuring around 300 tents crowded
around Memorial Coliseum.
It has also been custom in prior renditions of the campout for players and coaches to make appearances and interact with the Wildcat fans.
To add to the festivities, Kentucky football's road matchup with Ole Miss is that Saturday with the coliseum hosting a watch party for the game and womens volleyball against Alabama at 4 p.m. EST.
Tickets for Big Blue Madness will also be available online for anyone not interested in camping, but the tradition of camping out with hundreds of other fans is one that was sorely missed by many in the years it was absent.
With Big Blue Madness scheduled for Oct. 15, the mens basketball team is set to begin play a month later in the Champions Classic against Michigan State on Nov. 15, while the womens team has not yet released its non-conference schedule.