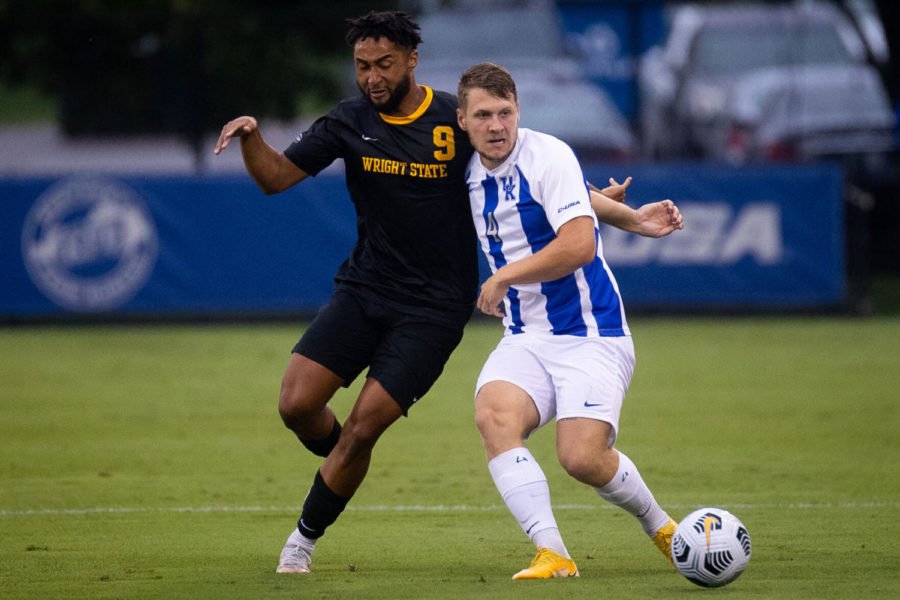 No. 5 Kentucky mens soccer (4-0-1) forced a draw against No. 20 Tulsa (3-0-1) on Sunday thanks to a goal by Luis Grassow in the 78'.
The Cats conceded early in the first half after a powerful strike from Tulsa's Alex Meinhard sailed past UK goalkeeper Issac Walker to land in the top corner, seeing Kentucky trail in a second straight match after not allowing a single goal in the three priors. 
Just moments later, in the 35', tempers flared after Golden Hurricane defender Wes Bottenburg made a crunching tackle on Kentucky's Brennan Creek, with head referee Daniel Radford having no hesitation in reaching for his back pocket and pulling out a red card. 
Tulsa head coach Tom McIntosh was visibly frustrated with the call as he knew holding a highly touted Wildcats team with only 10 men for an entire half would be no small feat. 
Entering the second half still trailing 1-0, Kentucky raised the intensity, finding wide areas to cross the ball toward the dangerous forward pair of Eythor Bjorgolfsson and Danny Evans. 
Dropping deep and letting the Cats come to them, Tulsa's defense looked near impenetrable, but a sturdy stream of counterattacks began to show cracks in the Golden Hurricane back line. 
Finally breaking through on a long throw-in, Grassow took a one-touch volley to equalize the game, though the defender likely hoped to give his team an opportunity to grab a late winner than to merely settle for the draw. 
The Cats fought to find the aforementioned game winner as a headed chance by Evans was cleared off the back line by Tulsa to deny Kentucky from claiming victory. 
Without Tulsa keeper Alex Lopez, who capped off a complete defensive display for the Golden Hurricane with four saves, it's hard to imagine the score not appearing more favorable towards the Cats. 
With less than five minutes left on the clock the tension between the two ranked opponents was far from over, as Kentucky defender Max Miller made a tackle not dissimilar from the one that sent off Bottenburg, though this time the referee only brandished a yellow card.
With the score ending in a 1-1 draw, the No. 5 Cats travel back to Lexington with their unbeaten run still intact five games into the season, with Kentucky hoping to extend it further against No. 8 Marshall. 
Kentucky will begin Sun Belt conference play against Marshall on Friday, Sept. 16, at The Bellm with kickoff scheduled for 7:30 p.m. EST and airing live on ESPN+.