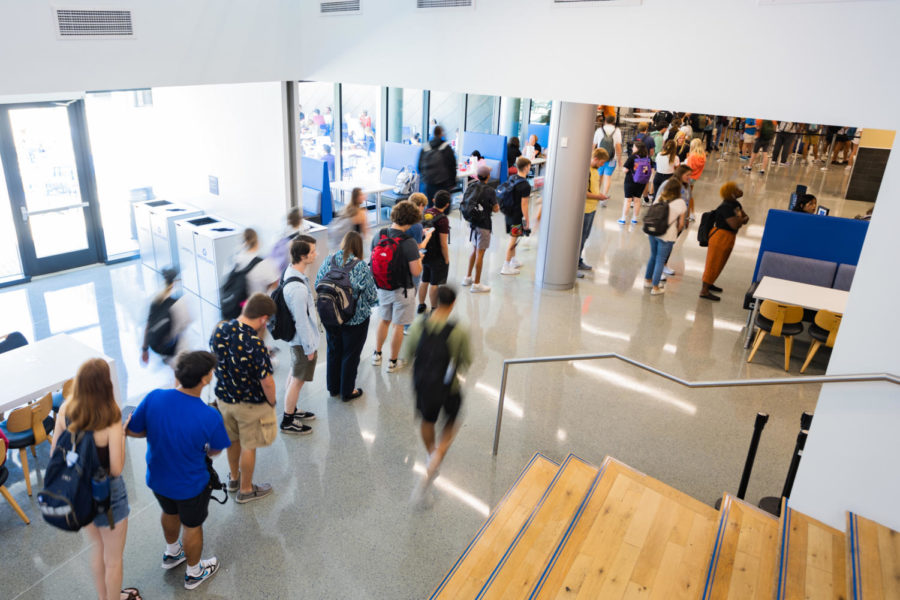 Michael Smallwood
With the record-breaking freshman class at UK, the university's dining services are struggling to keep up with the need for space to hold the 6,000-plus new students, despite the expansion of the facility in fall 2021.
New and returning students alike were a bit shocked when they were met with extensive lines that didn't dwindle after the first few days of class. 
Jenny Hotko, a freshman biology major from Illinois, mentioned a lack of employees during dinner at The 90.
"They only have one person working at dinnertime. At the busiest time of the day, they only have one person working," Hotko said. 
UK spokesperson Jay Blanton told the Kernel that the university is doing what it can to resolve the issue. 
"During larger dining periods – such as lunch – our dining halls have two cashiers working, and we are continually observing these periods to ensure we are maximizing the flow of customers into and out of our facilities," he said. 
Blanton also said that the university is "continuing to hire additional student workers" for "$15 an hour in pay."
Some students said they have to skip meals because of the lines. 
"If I were to see a long line and had class, I would just skip eating," Maddie Oakley, a freshman biology major from Lexington, said. "I think they need more people scanning [IDs]… I know at Champs you just scan your badge … and here [at The 90] we can't swipe it ourselves. They have to swipe it for us." 
Freshman and political science major Ana St. Clair said that she has also seen and waited in long lines where employees scan her ID, and while they can be annoying, the long lines don't directly affect her schedule.
According to Blanton, Champions Kitchen and the Fresh Food Company each have a current estimated appropriate capacity of 1,000 people – a number far from the estimated 6,200 freshmen, most of whom hold meal plans.
For any student living in the dorms except for the University Flats, purchasing a meal plan is required by the university. Many students in the Flats still choose to purchase meal plans, as well as some commuters.
Blanton asked for patience as campus dining faculty work to move quickly through the lines in the dining halls. 
"The fact that the campus is utilizing our dining halls is a testament to the quality of what is offered," Blanton said. "We want to continue that quality and provide even better service throughout the year."