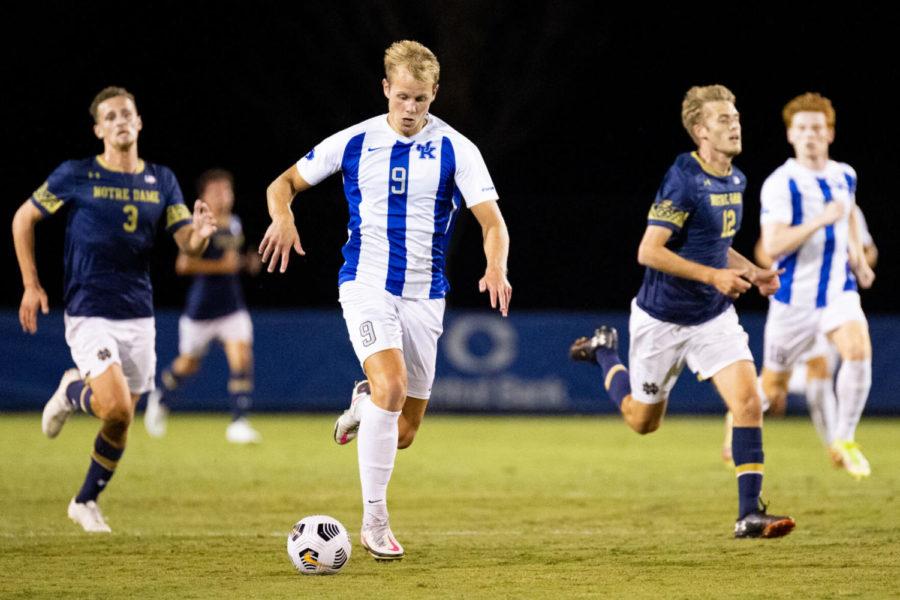 No. 5 Kentucky (4-0) defeated No. 10 Louisville (3-1) 3-2 on Tuesday, earning its first ranked win of the season.
Prior to the matchup Kentucky had not allowed a single goal against, having outscored UIC, Seattle and Belmont by a combined 6-0.
With a combined five goals scored on Tuesday it's little surprise that both teams wasted no time getting on the board, starting the match with a sense of urgency in a derby matchup that was only heightened by the top 10 rankings of both squads.
It would ultimately be Louisville who got on the board first, in the 11', after the Cardinals created pressure and ultimately got the ball to ricochet off the head of UK's Eythor Bjorgolfsson and into the net for an own goal against the Cats.
While head coach Johan Cedergren recognized the humor in UK's first goal against being an own goal, he also expressed disappointment at the defensive collapse that led to the opportunity being allowed in the first place.
"Louisville is good on set pieces," he said. "No. 16 is a big guy, but that's something we worked on the practice field to try to neutralize what they were doing, and I thought we couldn't have done any worse. That's definitely something for us to keep working on in regard to our shape and how we defend set pieces."
Cedergren wasn't given long to stew in his disappointment however, as Bjorgolfsson quickly found himself in a prime opportunity to score with separation in the box.
Sophomore midfielder Casper Grening saw the opportunity as well, delivering a cross to the Norwegian forward, who promptly redeemed his own goal with an equalizer.
"As a striker that's your bread and butter," Bjorgolfsson said. "I mean growing up headers was what I was good at. When your attacking teammates get you the ball it's just [about putting it into] the back of the net."
Following the two early goals, both teams would remain scoreless entering the halftime break, though not for a lack of trying. 
Cardinal goalkeeper Gavin Krenecki had amassed four saves by halftime with just the one goal allowed, while UK's Casper Mols notched two of his own with only the own goal allowed; a testament to the opportunities being created by both attacking units.
Coming out of the break it would be Kentucky with the upper hand, wasting little time before German midfielder Nick Gutmann put one into the back of the net off an assist from Enzo Mauriz to give the Cats their first lead of the night.
Battling for much of the second half, Kentucky would break through once more in the 74' as Grening got one past Krenecki unassisted to bring the total to three unanswered goals and a two-score lead over Louisville.
Cedergren praised how his team responded to trailing for the first time all season, citing the key difference between cockiness and confidence that comes with being a highly touted sqaud and how his team fell into the latter category on Tuesday.
"You have to be careful when talking about the culture of the group you have," he said. "But this is a group that's incredibly hard working and they've bought in and they're working for each other. Even though we got scored on I didn't feel like this was a game we weren't going to win. I love the culture of the group and [they're] hard working, but now we just have to stay a little humble as well as the rankings keep creeping up."
While the Cardinals would get one back in the 80' – the only true goal scored on Kentucky all season after the own goal – key keep-away plays by veteran returners to maintain control of the ball saw the Wildcats power through the final ten minutes and claim victory over Louisville 3-2.
"The last ten minutes are just about fighting," Mauriz said after the game. "Fighting to make sure we don't concede another goal. We stuck together with solid defense and just made sure to clear everything and see out the game."
While Cedergren was pleased to secure the first win of the season over a ranked opponent, one within the top ten no less, he recognized the next first the team will have to overcome as it travels to Oklahoma to face off with Tulsa in Kentucky's first road game of the season.
"I don't know where Tulsa is ranked, but they're undefeated and they just had a huge 4-0 win yesterday," he said. "I think for us every result keeps validating how good we are and the things that we're working on can actually get us results on the field. If we had some doubts, I think today was really good to iron them out because I think Tulsa plays very similar to how Louisville plays – they're very good on the ball, they throw a lot of bodies forward and they're good in the attack – so we have to deal with that. I think today was good preparation for what is going to be a very tough test on Sunday."
No. 5 Kentucky is scheduled to kick off with No. 20 Tulsa at 7 p.m. EST on Sunday, Sept. 11, inside the Hurricane Soccer and Track Stadium. The match is set to air live on ESPN+ and will be the second consecutive ranked matchup Kentucky participates in.