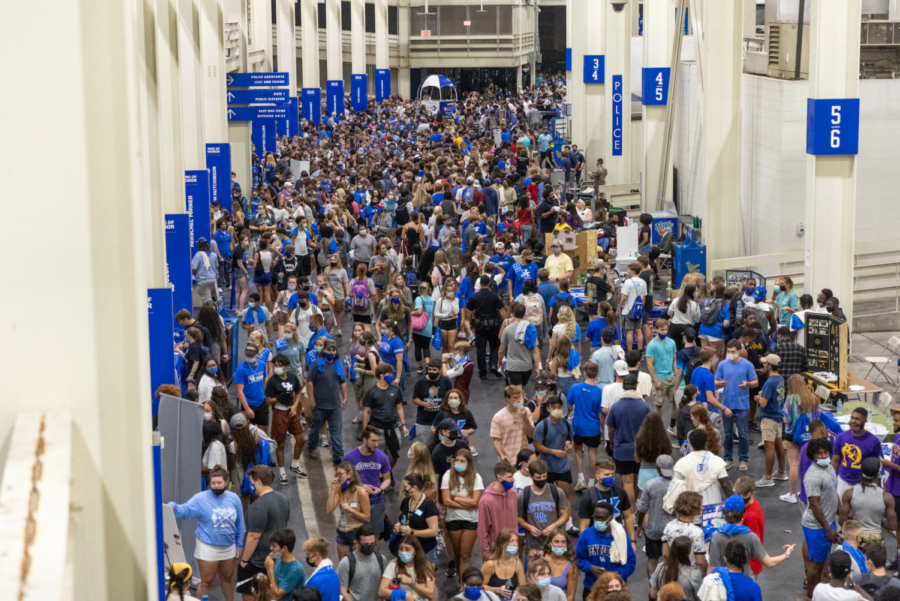 One of UK's largest annual traditions at the beginning of every academic year, K Week helps welcome new students to campus by connecting fellow classmates, teaching UK traditions and sharing campus resources.
This year's festivities are set to begin on Wednesday, Aug. 17, and end Sunday, Aug. 21, offering over 100 events for students, courtesy of the Office of Student Success.
K Crew leader Ryan Smith is happy to see K Week back in full swing. Smith's own freshman K Week was not the traditional experience due to the COVID pandemic. 
"I'm excited to see people have the experience I didn't get due to COVID, and I'm excited to help people feel welcomed here," she said.
Smith also said she is looking forward to helping show new students the ropes of UK's campus and becoming a familiar face for students new to Lexington. 
"K Week gives you a chance to meet people," she said. "Just in case you might feel lonely walking to Champs." 
Wednesday
The first event of K Week 2022, K Week Kick-Off, will begin at 8 p.m. on Wednesday. Students will gather on the South Lawn behind The 90 to meet their assigned K Teams and K Crew leaders and learn more about what to expect during the five day orientation.
Thursday
Students will receive college-specific information on Thursday, Aug. 18, during a variety of college sessions running from 8 a.m. to 5 p.m. Thursday will end with Campus Ruckus, beginning at 7 p.m. at Kroger Field. 
Sponsored by UK's Student Activities Board, Campus Ruckus features up to 200 on-campus organizations. Each organization will have a carnival style game and allow students to learn more about campus organizations while also winning prizes.
Management and Sports Communication double major Devin Morris encouraged students needing new UK gear to attend Campus Ruckus.
"The experience was definitely memorable," she said. "I filled my entire closet with free UK shirts."
Friday
K Week also offers a customizable experience by allowing students to pick and choose participation in smaller, more focused events. Friday, Aug. 19, is the most customizable day of K Week. Information about campus resources will be available at different sessions all day. Attendees are welcomed to participate in as many or as few presentations and activities throughout the day. Specific scheduled times and locations for all opportunities offered can be found on the UK Guides mobile app.
As sessions conclude on Friday, K Teams will meet at 6 p.m. to walk to Big Blue U together. Sponsored by UK Athletics, Big Blue U participants will learn UK cheers and songs and take a class photo at Kroger Field. K Week staff asks that students wear their new K Week shirts and comfortable shoes.
Big Blue U will also feature speeches from UK president Eli Capilouto and various athletic coaches.
Saturday and Sunday
Cat-a-Palooza will begin at 7 p.m. on Saturday in the Gatton Student Center (GSC). New students will become acquainted with GSC while also enjoying live music, free food and familiarizing themselves with the resources offered in GSC.
Sponsored by 17 UK organizations, Cat-a-Palooza will end at 10 p.m. K Teams are encouraged, but not required, to attend together.
Student organization open houses will be held all day Saturday and Sunday. Classroom tours will be scheduled by K teams with specific times to be distributed by K Team leaders.