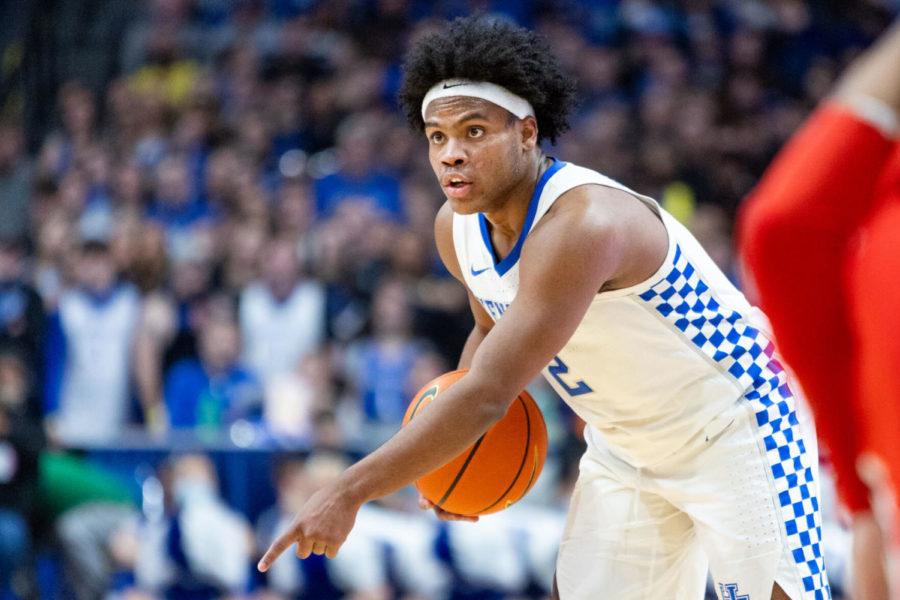 Another day, another blowout for Kentucky mens basketball, who dominated Tec de Monterrey by 62 points on Thursday, just one day after throttling the Dominican Republic national team by 52.
The game was the second of four in the Big Blue Bahamas pre-season event being held in the Caribbean island country. 
Tec de Monterrey is a college in Mexico, though the team was inflated by members of Mexico's u23 national team as to make the game more competitive, though this did not seem to factor much.
The Wildcats held a commanding 53-21 lead at the half, though the game was long over even by that point with Tec de Monterrey shooting just 27% from the field as opposed to UK's 57%.
The Wildcats also out-rebounded Monterrey 30-8 in the first half alone, with size continuing to be a problem for the Mexican unit throughout the night.
Returning for the second half, Kentucky was unable to have a second half similar to the utter dominance it had the night before, but a 49-19 scoreline in the half was more than enough for the lopsided affair to go in favor of the Cats.
By the end of the night Kentucky had out-rebounded Tec de Monterrey 65-22, one short of having three-times the total of Monterrey, and out-scored the Mexican team 60-12 in the paint.
Four Wildcats, Jacob Toppin, Oscar Tshiebwe and Chris Livingston, scored double-doubles on the night on points and rebounds, while Sahvir Wheeler accomplished the feat with points and assists.
Assistant coach Chin Coleman harped on Livingston's versatility even as a freshman and highlighted his back-to-back impressive performances in the pre-season tournament.
"[Livingston] is very versatile, tonight he had a double-double. He's what you call a triple-double wing," he said. "A guy that's going to fill in the stats sheet. Obviously we want him to be a better defender and want him to be a good rebounder as he is. He can do a little bit of everything, he can dribble, pass, shoot, he makes good plays when the ball is in his hands and the best is yet to come for him. We're just scratching the surface with our team and we're going to use this to get a couple feet ahead of everyone else."
Seven Wildcats also finished with double-digit point totals, all being led by Livingston and Wheeler, who had 14 each.
Coleman highlighted having many effective scorers as one of the biggest strengths of this year's Kentucky team, saying that if any one player struggles, they have other guys.
"We've got a lot of good guys at any given moment that can have a breakout game," Coleman said. "[Reeves] was 4-5 from three yesterday and 1-5 today, but that doesn't mean anything for us because we have other guys. Everybody just has to be the best version of themselves, we don't need anybody to go into the phone booth and put on a cape like 'Superman, come save me!' We've got enough."
On Monterrey's side, two players scored in double-figures for a combined 26, over half of their final total, while no other Mexican player scored above six.
By the final whistle Kentucky had held Tec de Monterrey to 25% from the field and 26% from beyond the arc, with the latter also further shooting itself in the foot with a 16% free-throw percentage.
While Kentucky's own three-point percentage, 26.9%, was nothing to celebrate, it did show improvement in the second half with UK only connecting on one three in eight attempts in the firth half courtesy of Antonio Reeves.
With the win Kentucky moves to 2-0 in the 2022 Big Blue Bahamas event, 11-1 all-time in the Bahamas and 39-1 in exhibitions under head coach John Calipari.
While the team has an off-day on Friday to enjoy the resort, they are back in action Saturday night against Carleton University from Canada.
Coleman expressed that the off-day and ability to enjoy the resort is critical for the team-building this season, saying the camaraderie was what this trip is all about.
"[The fun part of this trip] is very important," he said. "We got guys going fishing tomorrow, we got guys going to the water park, we've got guys making sandcastles, I mean that's how you win basketball games. The game is won before it's even played. If you win your locker room, and your guys are connected, we've won off the court. The things these guys are doing are so valuable to our team so we're happy we get to come down here and bond."
Kentucky's matchup with Carleton is scheduled to tip-off at 8 p.m. EST and will air live on the SEC Network. It will be the third of four total Big Blue Bahamas games before the Cats return to Lexington.