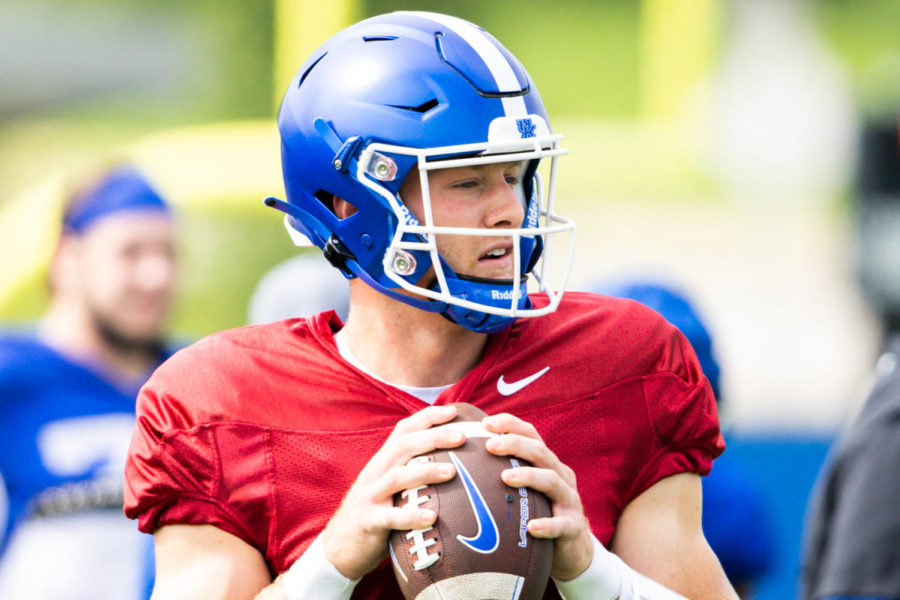 Isabel McSwain
Kentucky football suffered from several offensive blunders during an open practice and fan day the team held on Saturday.
The performance, while early, was not what fans in attendance may have been hoping for after an offseason that has seen the program and its athletes be hyped up to new heights.
Finishing last season with 13 interceptions, a big focus for starting quarterback Will Levis was limiting his turnovers in the offseason with the star being projected to be drafted well into the NFL, but that did not appear to factor into the fan practice with a handful of interceptions during 7-on-7 drills, a few of which the blame lay solely on Levis' shoulders.
Levis did not try to sugarcoat the performance, taking the podium after practice and acknowledging the sub-par performance.
"That was not up to our standard. Me personally, I didn't make some good decisions," Levis said. "There's going to be days the defense gets the best of us and today just wasn't our day. We had some flashes but it needs to be a lot better."
Head coach Mark Stoops said there's "still a lot of work to be done" but he believes his team's hard work will get them where they need to be.
"We have a lot of things to get better at and correct, but I like this team. I like the way they compete. They're grinding, they're doing the best they can and there's certain areas where there's question marks on this team and we got to work hard to get those answers fixed. There's other areas that are very strong but we have to be a complete football team," Stoops said.
The grinding mentality and hard work as a solution was echoed by Levis, saying he believes the best way forward is to keep working and push past the mistakes.
"I put emphasis on the mental side of it. This is our fourth practice in a row and everyone's tired but we have got to make sure that it doesn't affect the energy that you bring on the field," Levis said. "[We have] an off day tomorrow and I think that kind of got into some guys' heads looking forward to just trying to get through the day, but we don't want to try to get through the day, we're trying to take advantage of every rep and get better. It's about just trusting the process and making sure we're getting it all and that the energy is there all the time regardless of the situation."
Levis touched on the idea that the defense got the better of them and that's just part of the practice format, mentioning that there were several periods during the practice that the offense perhaps looked better as well and that both sides are working hard to strengthen the other and themselves.
"You can't get complacent. It's not good when everything is going well because you've gotta learn how to deal with adversity. It's good for me to make mistakes now and not during the season," Levis said. "It's a fine line between understanding I want to see what guys can do and force balls downfield but then also playing within the realm of the offense and not making stupid decisions, which I made a couple of those today and that just can't happen."
Levis said he speaks with inside linebacker Jacquez Jones, who dubbed himself the quarterback of the defense, to learn how to improve his game from a defensive perspective.
"He's been able to kind of tell me when I'm going a little too early in my progressions or if he sees when certain things are coming. He's a good person to learn from and he's probably got the best football mind on that defense," Levis said.
Jones echoed the sentiment, saying his relationship with Levis is needed to take them both to the next level.
"[Will and I] talk after practice and I ask like, 'In this coverage, what do you see?' and stuff like that. Me being an inside linebacker is like the quarterback of the defense and he's the quarterback of the offense, so I feel like he's been playing really well and pushing me," Jones said. "In the training room he asked me what cover we were going to be playing and how he could beat it and stuff like that."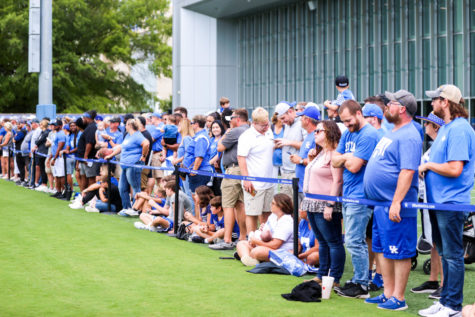 With the full practice cut short and finished inside due to inclement weather, many fans were likely to have departed feeling the weather was an accurate representation of the Wildcats' offensive prowess ahead of a highly anticipated season. While the team acknowledged that things were far from perfect, players and coaches alike were quick to insist that in the push-and-pull battle that is preparing for college football, Saturday's practice was just another step towards reaching the team's full potential.