Kernel photo editor selected as finalist for Hearst journalism championship
Jack Weaver, managing and photo editor of the Kentucky Kernel, has been named a photojournalism finalist for the 2021-2022 Hearst National Journalism Awards Championship.
The championship brings together the best student journalists from around the country to compete in a specific category, including multimedia, writing, audio, television and photojournalism.
Weaver, a junior marketing and management major from St. Louis, has worked at the Kernel since his freshman year, starting out as a staff photographer and working his way up to be managing editor. He is one of six student photojournalists selected out 10 semifinalists to participate in the Hearst national championship.
This year, the competition will be held in San Francisco on May 20-25. Finalists are given three days to find a subject, create a story and submit it for professionals in their field to judge – all while navigating an unfamiliar city. For photojournalists, this entails compiling an edit of 10-15 photos that follow a prompt or story brief.
"It's a little nerve-wracking, thinking that I have to show up to San Francisco and somehow find a subject, and not only find a subject but also put together a compelling photo story that answers the prompt we've been given," Weaver said.
Since he has never been to San Francisco before, Weaver said he thinks the hardest part will be figuring out what that story will be. The finalists have no guidelines to shape their story other than the prompt, so it is entirely up to them to figure out their subject.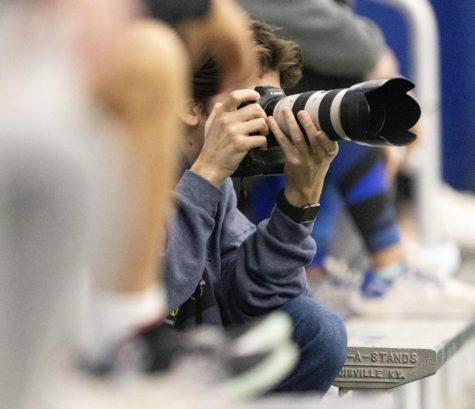 While he sees the competition as a bit daunting, Weaver said he is still excited to get started.
"I'm really looking forward to hopefully finding that story and figuring out exactly what it's going to be, and then just having to worry about what images I'm going to capture," he said.
According to David Stephenson, a professor in the UK School of Journalism and Media, the Kernel has not had a photojournalist compete in the national championships in decades, which makes Weaver's achievement all the more special.
Stephenson said he is "so proud" of Weaver, although it is "unsurprising" to him that Weaver made it to the top six.
"We don't have a formal photojournalism program at UK, and Jack has never taken a photography class in college. Everything he has accomplished, he did through sheer talent and a passion to be a better photojournalist," Stephenson said.
Weaver credits much of his accomplishment to the experience he gained at the 2021 Picture Kentucky Workshop, a four-day program held in Frankfort, Kentucky. Through Picture Kentucky, last October, UK and Kentucky State University students had the chance to create a photo or multimedia story with coaching from professional journalists in the field.
In fact, the photo story that Weaver submitted as part of his Hearst application was the piece he created during Picture Kentucky.
"I would not be a semifinalist or a finalist if it weren't for Picture Kentucky," he said. "The experience I had at Picture Kentucky is really going to prepare me for what this will be like in the sense that I will be working on one story and kind of trying to figure out what that story is and how to tell it in photos."
Weaver said he is most looking forward to exploring San Francisco while meeting the other student finalists and judges.
"I'm really excited to build connections with the students and make friends," he said. "I'm just excited to get there and start shooting."