Two years later, Flight 5191 families mourn together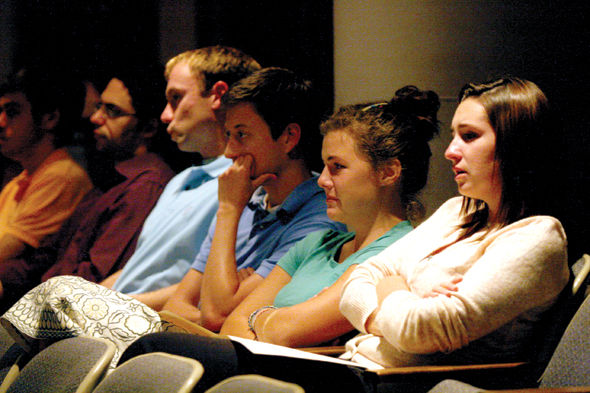 It hasn't been an easy journey for Matthew Snoddy in the two years since his father, Tim, died, Snoddy said as he stood before the crowd. However, he said, community support in Lexington has helped pull him through one of the most difficult times of his life.
"Our society is well-equipped to handle the highs of life," he said. "Positive events like sporting events, weddings, birthdays and holidays bring together well-wishers and celebrants.
"Tragedies like 5191 are not so clearly defined in etiquette manuals. However, I firmly believe the book could have been written based upon the response of our communities."
One big source of support is fellow families, said Clay Turner, a Transylvania student and son of crash victim Larry Turner. During the past two years, Clay Turner said he has been to many events for surviving family members.
However, he said he thinks this may be the last year there is a open memorial service because some people want to cope with the tragedy in a less public way.
Clay Turner said he has talked with many other family members of victims over the last two years, and while it has been difficult, life is getting better.
"It occurred to me at the end of the second semester, in May, that I was genuinely happy," he said. "Life had returned to a close enough thing to normal that I could be happy."
One big consolation in the past few months has been the end of a long legal battle against Comair, said Tony Byrd, a relative of victim Brian Byrd.
The families of Brian Byrd and 38 other passengers have filed lawsuits against Comair. In the past month, decisions were reached for 37 of those victims — leaving two pending as of the crash's two-year anniversary.
Ending a long legal battle has made things easier, said Tony Byrd. However, he said it's still strange to look up the driveway and know that Brian will never again park his car, climb the steps and walk inside.
"It's better, but we still think about it every day. We still cry every day," he said. "We still remember."
Plans for Lexington memorial move forward
About a year and a half after it formed, the Flight 5191 Memorial Commission has taken the next step to create a Lexington memorial, said committee co-chair Ray Garman.
Commission members have begun looking for potential memorial locations, said Garman, an associate professor at UK. The group, which includes family members as well as state and local officials, also plans on sending out a request for memorial designs in the next week.
The committee only recently begun to talk about exactly what kind of memorial they thought would best pay tribute to the crash victims. Until the last few months, the group focused on building trust among members, because some family members were wary that the memorial would be too state-controlled, Garman said.
"All of the groups developed a sense of common purpose, and trust one another," he said. "I believe we do trust each other now, that no one's being overbearing and everyone's trying to be sensitive to each other."