Feeling the pressure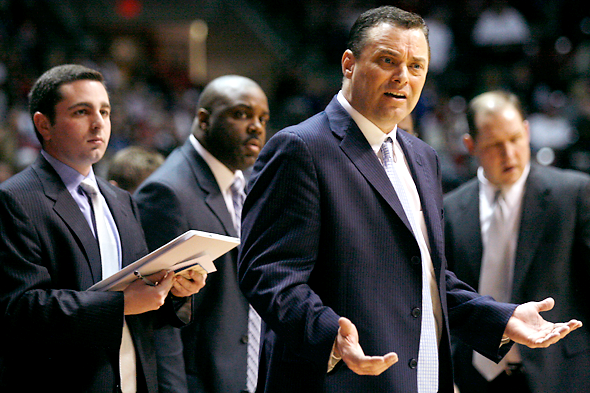 Three games. That's all it takes in Lexington to go from the pinnacle of the Southeastern Conference to hearing the sound of boos.
He came in as a savior. Three well-documented, surprising losses and a 20-second ESPN halftime interview later, UK men's basketball head coach Billy Gillispie has remained in the media spotlight. And one day after his third consecutive loss, he is faced with more pressure and a new challenge.
On Wednesday, Darrell Bird of CatsPause.com reported that Patrick Patterson said players verbally confronted each other in the locker room following Tuesday's loss.
Patterson told Bird that Gillispie stood in the locker room and let the players say what was on their minds. UK Athletics spokesman John Hayden said there was no comment on the story.
"Patrick just came out and started talking, and I asked him if Gillispie was in the locker room," Bird said in a phone interview. "He said, 'Oh yeah, (Gillispie) was there.' Pat just spoke, said there was a heart-to-heart talk after a three-game losing streak."
Big Blue Nation has grown restless, shown by the chorus of boos at halftime during UK's 66-57 loss to Mississippi State on Tuesday, but the fans aren't necessarily putting the blame on Gillispie.
Former UK head coach Joe B. Hall said such behavior is caused by the tradition of UK basketball.
"Boos happen during a bad run. I heard them too," said Hall, who went 13-13 in his second season at UK. "Kentucky fans are that demanding because of the tradition here. You just need to win."
Gillispie and his Cats won't get a chance to win again until Feb. 10 against rival Florida. Former UK basketball great Tony Delk said winning is the cure to the boo birds.
While Delk never experienced jeers at Rupp Arena, he said he understands how Gillispie feels. During the 1993-1994 season, Delk's sophomore year, the Cats lost two consecutive games. He remembers the team making sure they defeated Louisiana State to stop the streak and keep the fans happy.
"Fans do expect great things out of our team," Delk said in a phone interview with the Kernel. "We're that kind of team and program. The fans are trying to be patient but we also want instant success out of him and the team."
While that could turn a lot of heads in Lexington, Clayton Barrett, a finance sophomore and UK fan, said he doesn't have a problem with the story of a locker room confrontation.
"I don't have a problem with it," Barrett said. "They showed their emotion and hopefully that can translate over to the court now."
While every UK fan has his or her own belief of what will turn the Cats' losing ways around, Delk is convinced it's quite simple: win.
"What cures everything is winning. You have to put what happened behind you," Delk said. "But we need to focus on defense and everything will fall into place. We have to control the ball and value the ball.
"Nothing is more important than winning though."