UK plans bicycle permit parking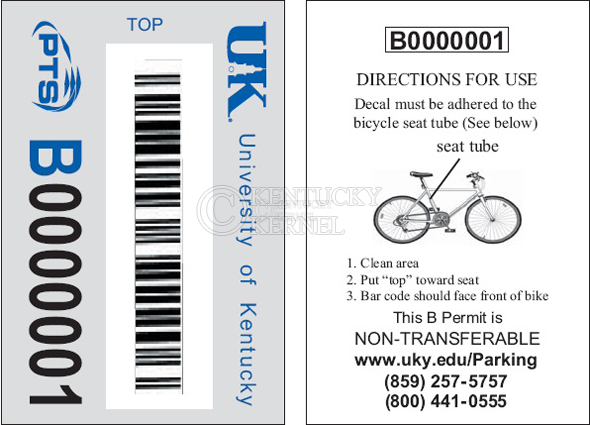 Bikers will have to pay to park on campus under a new plan by UK Parking and Transportation Services.
Under the program beginning in July, bikers will be required to have a permit to park at the bike racks on campus. Although the passes will cost $15 for lifetime registration, from July until March 2010, the fee will be waived.
UK Parking and Transportation Services decided to create a bike plan because no single department is in charge of biking, said Stuart Kearns, the department's associate director for transportation. The fee will allow Parking and Transportation Services to take charge of efforts such as installing more bicycle racks.
Parking and Transportation Services plans on using part of the money to add to the 2,700 spaces for bikes on campus with new bicycle racks. It will also replace the older-style bicycle racks with newer models. Kearns said the racks now can be "wheel benders," when many bikes are on the same rack and pressure can cause the front wheel to bend.
The new racks will cater to an increasing presence of bicycling on campus, Kearns said. According to a September survey, Parking and Transportation Services counted about 4,900 bicycles entering and exiting campus in a 12-hour period— a 37 percent increase from a decade earlier.
"I think we're coming into a time when alternative transportation is becoming more and more popular," Kearns said.
Kearns said Parking and Transportation Services is now in the planning stages for an educational program to encourage biking and to teach bikers basic procedures.
UK's bicycle permits, like motorcycle permits, will be a sticker affixed to vehicles. For bicycles, the waterproof permit will be placed on the seat tube between the seat and the pedal.
As with vehicles, Parking and Transportation Services will be in charge of violations such as illegal parking and can scan the permit's barcode. No additional hiring of enforcement officers is planned now, although the department will assess whether more officers are needed later, said Chrissie Balding Tune, the Parking and Transportation Services spokeswoman.
Tune said bicycle registration would allow officers to use discretion when they impound bicycles.
Right now, UK does not have a method for citing bicycles. The university instead impounds all illegally parked bicycles. In 2008, 237 bicycles were impounded on campus, according to a Parking and Transportation Services news release.
For more information on UK's bicycle policy, visit www.uky.edu/Parking/transportation-bicycle-info.html.
More information on the bicycle permits should be online this week at Parking and Transportation Services Web site, (www.uky.edu/Parking/).