Draining Shots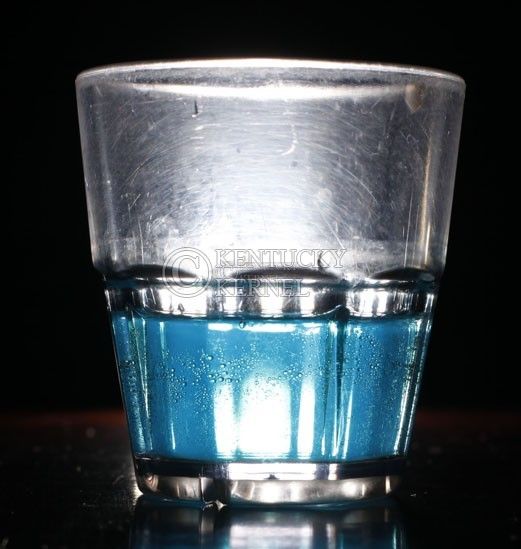 Halftime of most UK men's basketball games is a time to catch up on other scores and highlights, grab a bite to eat or check out the dance team. But at Two Keys Tavern, bartenders are busy mixing a sea of blue drinks.
The fanfare surrounding John Wall has infiltrated the Lexington bar scene with the creation of a new shot named for the freshman guard and its popularity continues to grow as the season presses on.
The John Wall shot is a combination of vodka, sweet and sour mix, Sprite and, in some cases, Blue Curacao. And it's taking over as the drink of choice to celebrate a Kentucky win.
"It got to the point where we couldn't make enough of them," said Courtney Daniel, a bartender at Two Keys. "It's taken off to be an entity in itself … You have people come in and they're like 'I have to have a John Wall.' "
Two Keys lays claim to creating the John Wall shot and bartenders there make sure that the sweet, blue drink is always on hand. Two Keys pre-mixes the John Wall in four-liter dispensers, and Daniel said the bar can easily sell 12 tubes of the John Wall on a good night.
"I would kill to make a Washington Apple on a Thursday night," Daniel said. "Everyone wants a John Wall shot."
Seth Bennett, the owner of Two Keys, said the idea for the drink came at the beginning of the basketball season. Originally dubbed the Big Blue Shot, Bennett said people started calling the drink the John Wall after the freshman lived up to the hype.
Bennett said he's never seen the kind of excitement over one player or especially over one drink. Bennett said he sees the irony in naming an alcoholic drink after someone who isn't old enough to enjoy one, but said he doesn't really have a problem with it either.
"I was worried at first," he said. "I was like 'Is this a good idea?' But as long as he's not in here drinking them, I'm okay with it … Wherever he is when he turns 21, I'm going to go invite him back here to drink one with me."
Other Lexington bars created their own version of the John Wall after witnessing the drink's popularity. Tim Gribbons, co-owner of Tin Roof, said groups of people order the drink while they're watching the game or celebrating a win. He said people would hear about the drink from friends, order a John Wall and not know what was in it.
"If people were ordering them, we thought we might as well find out what's in them," Gribbons said. "It's taken over as the new Washington Apple."
The drink has spread to bars across Lexington via word-of-mouth advertising, but the recipe varies depending on the location. Two Keys uses UV Blue vodka to give the drink its signature color and fruity flavor, but almost all other bars use Blue Caracao and clear flavored or plain vodka. Everyone has a favorite, but many students say Two Keys is best at making the John Wall.
"Two Keys is the only place to get them," said Dallas Rose, a finance senior. "They invented them."