UK's first lady inspires award, excellence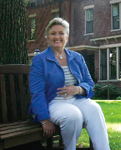 Extension, research and teaching  are the components of a new award named after UK's first lady.
Patsy Todd, UK' s current first lady, graduated from UK's School of Human Environmental Sciences in 1968. Now, the College of Agriculture has named an award after her in honor of her dedication to the school.
The idea for the award developed a year and a half ago when Patsy and UK President Lee Todd wanted to help advance the school, said Ann Vail, director of the School of Human Environmental Sciences.
"Her work signifies the kind of excellence that we want to reward in the school," Vail said.
The three recipients of the Patricia Brantley Todd Awards of Excellence in Human Environmental Sciences are Melissa Goodman, a family and consumer sciences agent in Hickman County, Elizabeth Easter, a faculty member in the Department of Merchandising, Apparel and Textiles, and Tammy Stephenson, a faculty member in the Department of Nutrition and Food Science, according to a news release.
Goodman received the extension award for aiding the citizens of Hickman County during last January's ice storm.
"I was just doing my job to help others, so I wasn't expecting it," Goodman said. "It was very nice, and I was very humbled."
Easter, who has taught at UK for more than 20 years and established the Textile Testing Laboratory, is the winner of the research award for work in her department.
"I enjoy research and engaging graduate and undergraduate students in the research experience," Easter said. "I think it gives them real world experience that they can take with them to the job market."
Stephenson won the teaching award for lecturing on nutrition and food science.
"I am very appreciative of Mrs. Todd and all she has done for the university and for the Human Environmental Sciences Department," Stephenson said.
Any faculty member at UK is eligible for nomination, and winners are selected for accomplishing a high level of excellence that has benefited the people of Kentucky, Vail said. The department gave winners a plaque and $1,000.
"(Patsy Todd) participates in our activities and is very supportive of students and alums," Vail said. "We are focused on improving the quality of life for individuals and families, and her career has also been focused on that."