The Joker Phillips Timeline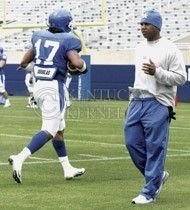 Playing years
1979-80 – Joker Phillips, a three-sport star at Franklin-Simpson High School in Franklin, Ky., leads the Wildcats to back-to-back state championships as a quarterback.
1981-84 – As a standout at wide receiver at UK, Phillips finishes his collegiate career with 75 catches for 935 yards and nine touchdowns. Phillips signs on with Fran Curci as head coach, but Curci did not return after the 1981 season.
Nov. 24, 1984 – In Phillips' last regular season game at UK, the Cats defeat Tennessee 17-12 and finish the season 9-3 after beating Wisconsin in the Hall of Fame Bowl. UK hasn't beaten the Volunteers since.
1985-87 – After graduating from UK with a degree in marketing, Phillips bounces between the NFL and the CFL for three years. He spent 1985 and 1987 with the Washington Redskins while playing the 1986 season with Toronto of the Canadian Football League.
Early coaching career
1988 – Phillips returns to his alma mater as a graduate assistant. He serves under Jerry Claiborne, who was also head coach during most of Phillips' time as a player at UK.
1990 – After two years as a graduate assistant, Phillips is promoted to assistant recruiting coordinator.
1991 – Under then head coach Billy Curry, Phillips is named wide receivers head coach. He held the position until the end of Curry's tenure in 1996, and was part of the coaching staff that led UK to the 1993 Peach Bowl.
1997-2002 – Phillips leaves UK as the Curry era comes to an end and spends the next few years as a coaching vagabond. He spends two years in Conference USA at Cincinnati before heading north to spend two seasons at Minnesota, then spends a year at Notre Dame. He returns to the Southeastern Conference in 2002, when he serves as wide receivers coach in the final season Lou Holtz spent at South Carolina.
Return to UK
2003 – When Rich Brooks is hired as UK head coach, he names Phillips his wide receivers coach and recruiting coordinator while assembling his staff. During Phillips' time as recruiting coordinator in 2003 and 2004, he signs players such as Jacob Tamme, Keenan Burton, Andre Woodson, Trevard Lindley, Myron Pryor, Rafael Little, Garry Williams and Wesley Woodyard.
Nov. 22, 2004 – Almost 20 years to the day after UK last beat Tennessee, offensive coordinator Ron Hudson resigns under fire. Phillips assumes play-calling duties for the Nov. 27 game against Tennessee. The Cats lose, 37-31, but UK scores the most points of any game in the SEC that season. Phillips is named full-time offensive coordinator after the season. UK finished the season 116th nationally in yards per game (out of 117 teams).
2005 – Phillips' first full season as offensive coordinator is a rocky one. Several young players are rotated in the offense, and UK finishes 108th nationally in yards per game.
2006 – UK goes 8-5, making its first of what will be four consecutive bowl appearances. Phillips directs the UK offense to nearly 400 yards per game, ranking 25th nationally.
2007 – Most of the offensive core from 2006 returns, and with Phillips at the helm, UK ranks 15th nationally with over 460 yards per game.
Jan. 18, 2008 – Phillips is introduced as UK's head coach of the future by UK Athletic Director Mitch Barnhart.
Jan. 15, 2009 – Phillips receives a title change, from offensive coordinator to head coach of the offense. Quarterbacks coach Randy Sanders is promoted to offensive coordinator, though Phillips retains play-calling duties.
Dec. 27, 2009 – Brooks announces he is "80 percent sure" he will retire after losing to Clemson 21-13 in the Music City Bowl. Brooks is expected to announce his final decision sometime in the coming days.
Jan. 6, 2010 – Phillips is named UK head coach.