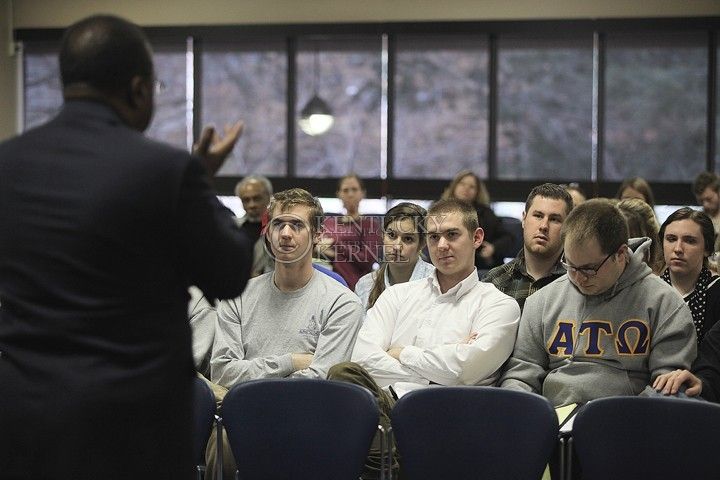 By Tara Bilby
Cornel Morton crossed the country from California to Kentucky, and now wants to bridge the gap between groups on campus.
The third candidate in the search for vice president of Student Affairs came to UK Thursday to discuss his plans and goals for the vacant position.
"I believe I can provide avid leadership and hopefully make an immediate difference," Morton said.
Morton is the vice president of Student Affairs at California Polytechnic State University, where he oversees more than 300 student organizations, he said.
He also has worked in the student affairs departments at Kent State University, the University of Maryland and Virginia Tech.
Morton said he was attracted to UK because of the location and his love for the southeastern part of the country.
If hired, Morton said he would work to improve diversity within the university and improve the relationship between academic and student affairs. Morton said Student Affairs needs to work hard to sustain diversity and a great deal of effort should go into outreach work.
"I want to make Student Affairs more prominent in this institution," Morton said.
Morton has served as a Greek adviser and said Greek organizations should step up and illustrate their best intentions in and out of the classroom.
Greek organizations should bring value to the student community, Morton said.
"One incident could occur that could undermine all good service deeds the Greek organization had accomplished," he said. "And would impact the negative perceptions that exist toward Greek life."
Student involvement in advancing the university's goal of becoming a top-20 institution is vital, he said. If students feel their university is advancing in the world, they are more likely to stay and succeed.
"Students need to know they are coming to an institution where leadership articulates vision," Morton said.
Students need to feel comfortable and involved because you can't be ranked as a top-20 university if students leave the university."
Morton said Student Affairs needs to bridge the gap between groups on campus so students don't feel excluded. At Cal Poly, Morton said he encouraged peer-led efforts that would let students know there is a place for every student and he hopes to carry those efforts to UK's campus.
International studies sophomore Sara Antel said she attended the forum with a group from the Emerging Leader Institute on campus because they wanted to hear what Morton had to say.
"He was very personable and gave extensive and good answers to questions he was asked," Antel said.
Delta Zeta sorority member Stella Wademi said she attended the forum because she believes it is important to know who is going to be in charge of student life at UK.
"If Morton is hired, he is going to be the next voice for the student body," she said.