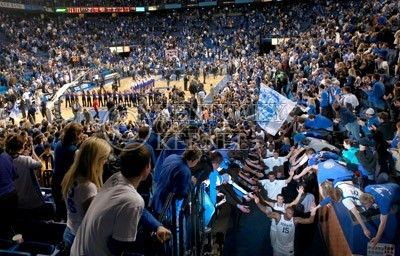 If revenge is a dish best served cold, the UK men's basketball team (27-1, 12-1 Southeastern Conference) handed out a frigid serving on Thursday night.
After dropping their first and only game of the season to South Carolina on Jan. 26, the Cats came out storming from the gate and defeated the Gamecocks 82-61.
From the opening 3-pointer of the game to the final buzzer, junior forward Patrick Patterson was everywhere for the Cats. En route to shooting 10-12 from the field, Patterson poured in 23 points and grabbed eight rebounds in leading the young Cats to victory.
UK jumped out to a quick 11-2 lead on the visiting Gamecocks, and pandemonium filled Rupp Arena with every bounce of the ball. The Gamecocks wouldn't go down easy though, and cut the lead to one before star senior guard Devan Downey picked up his second foul of the half.
"I'm so proud of (Patterson) and what he's doing, but we need him to be this," UK head coach John Calipari said. "This is what he needs to be. I'd like him to get 25 (points) and 12 (rebounds) every night out. Shoot the ball, man."
With Downey out, the Cats rolled off a 5-0 run forcing South Carolina head coach Darrin Horn into a timeout. Downey returned out of the timeout, and helped get the lead back down to two before UK rattled off a 14-2 run. The half was closed by a long range 3-pointer from Downey to make the score 37-26.
A 7-0 run in a 3:27 span cut the UK lead to six points at 46-40, and forced Calipari to regroup in a timeout. The Gamecocks had seven second-chance points in the opening 7:07 of the second half after not getting a single second-chance point in the entire first half. The Gamecocks would finish the game with 15 second-chance points to UK's 23.
"What I wanted to see is, have we gotten better?" Calipari said. "… They played hard. I think they played the way they had to play. They didn't make the shots they made down in South Carolina, but we also played better offensively."
South Carolina wouldn't get closer than six points the rest of the way, as UK, the tallest team in the country, used a heavy dosage of Patterson and freshman forward DeMarcus Cousins to physically overpower South Carolina down low.
After being outrebounded by four in their first meeting on Jan. 26, the Cats dominated the Gamecocks down low from beginning to end. Three UK players registered eight or more rebounds, and UK won the rebounding battle 47-31. Cousins finished with 19 points and 11 rebounds while picking up only two fouls.
"This is kind of like the dog days of the season," Calipari said. "… Let's get on with that other tournament. And I'm not talking about the one in Nashville. Let's get on with that other tournament."