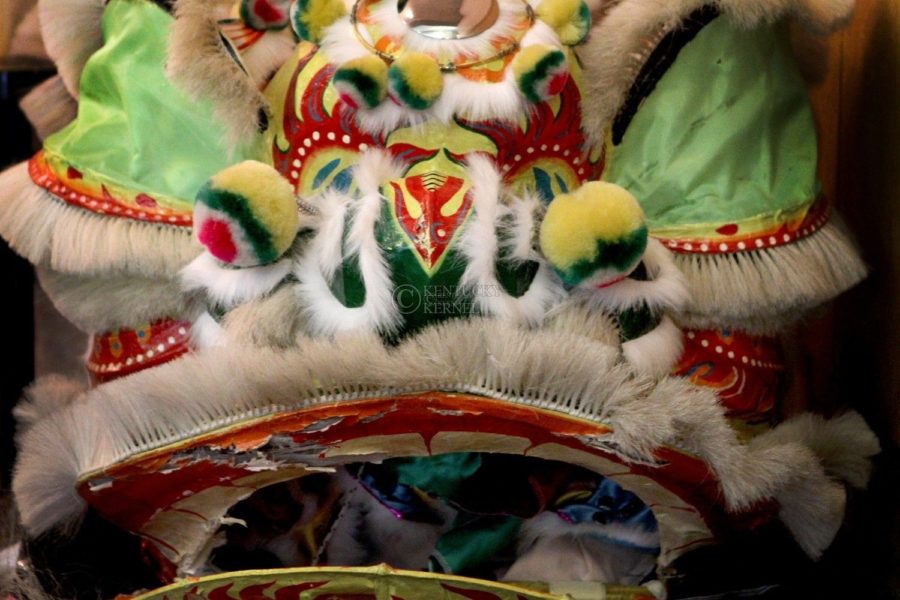 By Kayla Phelps
While New Years celebrations have finished for some, many in Lexington have just begun celebrating what will soon be the Year of the Tiger.
People of all ages gathered Saturday at the Lexington Public Library to start their celebrations of the Chinese New Year. Presented by the Kentucky Chinese American Association, the performances celebrated the Year of the Tiger, which begins Feb. 14.
Many decorations filled the stage, including red lanterns streaming from the ceilings and across the curtains. Performers dressed in authentic costumes covering every color of the rainbow.
In addition to colorful costumes, the rhythmic beats created a color of their own. In the opening number, a traditional lion dance was performed in the Southern style.  The heavy drum, choreographed with the movements of the lion, served as a ceremony to drive out evil spirits.
Fan dances were performed throughout the program, including a children's fan dance, a round fan dance and a long fan dance. These dances consisted of six to nine performers with brightly colored fans guiding their movements.
Cheryl Pan, a dance artist with the Kentucky Art Council, directed the stage performance. The hour-long program consisted of various dance, vocal, and instrumental performances representing the Chinese culture.
"Dancing is the best way to express Chinese culture," Pan said.
Performers started rehearsing in early December and had many practices on the weekends, she said.
Changzheng Wang, president of the Kentucky Chinese American Association, said Pan is probably the best Chinese dancer in Kentucky.
"She has a way of teaching people and helping them get comfortable on stage," Wang said.
This is the program's fifth year and its popularity has increased drastically, Pan and Wang said.
"We want to bring the community together in a happy atmosphere," Wang said.
Sean Xie, a political science sophomore at UK, sang a series of songs with three other students. Xie said it is important for other students to recognize the culture.
"We are not only Chinese students, but UK students as well," Xie said. "It is our duty to take part and show Chinese culture."
Brian Rose, a political science and international studies freshman, said he attended the event because cultural experiences are important to him.
"I think events like this are vital, especially for UK's students, when it comes to understanding other cultures and their history," Rose said. "Every chance anyone gets to be able to learn about traditions unlike theirs should be taken."
Saturday's show was a smaller presentation of the sold-out Chinese New Year Celebration to be held on Feb. 6 at the Lexington Opera House.