Community helps improve African-American health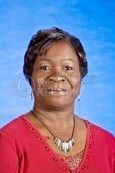 In a society increasingly focused on eating healthy, one UK researcher is looking specifically at the diet of the African-American community in Lexington.
Nutrition food science professor Ingrid Adams delivered a lecture that revealed research results on issues and solutions for bettering the health of African Americans in the community.
Adams' lecture was the first of two talks in the Carter G. Woodson Lecture Series sponsored by the African American Studies Research Program.  It drew a crowd of professors and students interested in improving the health of Kentuckians.
Adams' study revealed African Americans are disproportionately affected by chronic illnesses like diabetes, which ranks higher in Kentucky as the leading cause of death than the national average.
"Research is only beginning to uncover these gaps," Adams said.
She said this is because African Americans have less physical activity and consume less fruits and vegetables than most, a trend she hopes will change.
"Fruits, vegetables and grains tend to be helpful in reducing chronic diseases,"  Adams said.
Adams' research shows exercising environments are available but many still do not utilize them. Her studies showed many people spend a majority of their time doing household work.
"We need creative ways to get people to engage in physical activity while at home,"  Adams said.
Adams found most individuals have the self-efficacy needed to better their health, but lack the motivation needed to do so.
"We need to use neighborhood support to structure interventions by building community and team relationships," Adams said.
Dieticians Helen Mosely and Karen McNees were interested in learning ways to change attitudes toward health and nutrition.
"We want to hear suggestions on behaviors and how to change them," Mosely said.
McNees was glad to hear part of the sample was taken from the university environment.
Kinesthesiology professor Lucian Taylor was drawn to the talk because of its topic and relevance in the community.
"It's an interesting topic and I'm interested to see what people in Lexington are doing," Taylor said.
Adams hopes the results of her study will help not only the African American community in Lexington, but all Kentuckians.
"We want to see change and are very interested in the improvement of the quality of life of all Kentuckians," Adams said.