Softball looks to build off last season's success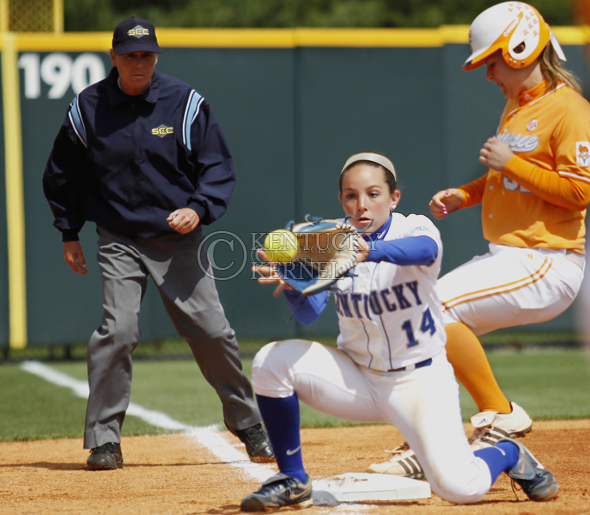 Last season the UK women's softball team reached heights the school had never seen before. This year they are looking to climb even higher.
Coming off the best season in school history and returning its core of starters means expectations around the softball program are bigger then they've ever been.
"I'm really excited to start playing, it's taken awhile to get to this point, but the team is a lot stronger and smarter," junior catcher Megan Yocke said. "We're hoping to be a lot better than last year and last year was a huge stepping stone based off record and everything else. I'm excited to see where it takes us."
If last year's team turned heads in the Southeastern Conference, then this year's team should also draw the attention of conference foes.
"A lot of people aren't going to take us for granted like they did last year so they are definitely going to come out ten times stronger than they did last year," sophomore infielder Brittany Cervantes said. "But we've gotten ten times better, so it's like we are right there with them."
Not being circled as an easy win by opponents might be something new to the Cats, but it can also be considered a testament to how far the program has come.
"Last year was our best year when no one knew about us, but now people know about us so it will be more exciting," Cervantes said. "But I still think we're underdogs in conference so we just got to play like we have nothing to lose."
UK's pitchers last season boasted an impressive 2.91 ERA and the Cats return three starters from the 2009 rotation that combined for 34 wins.
But in 19 of UK's 23 losses last season UK had two runs or fewer, so if the Cats are looking to have more success then the bats need to come alive. Luckily for UK, first All-American Molly Johnson is returning.
She scored 53 runs last season and was the first UK player to ever be named an All-American. But the Cats agree it's going to take a team effort to score more.
"We all have worked on getting faster and stronger, but we have worked on fundamentals … it's a touch-up on skills so they are not forgotten," Cervantes said.
With all that combined, the team is expecting even greater success than last year.
"World Series, nothing less, our ultimate goal is the World Series," Yocke said.