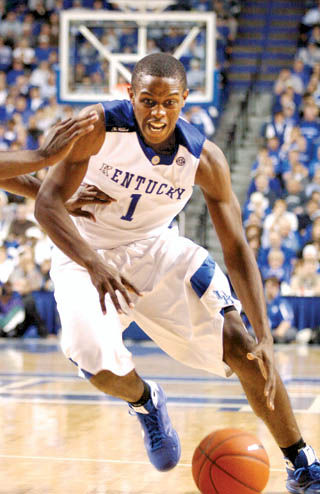 One of the biggest obstacles on Saturday afternoon for the young UK men's basketball team may just be themselves.
The Cats (21-1, 6-1 Southeastern Conference) will travel down to Baton Rouge to play Louisiana State (9-13, 0-8 SEC) who is still looking for their first conference victory of the season.
"I understand they haven't won a game," UK head coach John Calipari said. "But if you watch their games you see they have chances to win two or three games, including (Thursday) night (against Tennessee)."
The Tigers fell at home Thursday night to Tennessee 54-59. After scoring a mere 16 points in the first half, LSU used a late rally to almost clinch their first conference win.
Calipari said he would show his team film from that game to show them how good they are. A good portion of that film will likely be centered around LSU senior forward Tasmin Mitchell.
"He's one of the best players in the league," Calipari said. "He commands double teams which leaves other people open. He's got size if you're trying to put a 6-(foot)-5 guys on him. He's got skills if you're trying to put a 6-(foot)-9 guy on him. So it's a tough matchup for everybody which is why he's scoring and rebounding like he is."
Mitchell leads the Tigers in scoring and rebounding with 17.6 points and 9.9 rebounds per game, respectively. Mitchell ranks second in the SEC in scoring and rebounding.
Senior guard Ramon Harris said the Cats can't pay attention to LSU's winless conference record because anyone can lose on any given day. Harris has faced Mitchell before and said he will be someone they have to prepare for in order to come out with the win.
"He's a versatile player," Harris said. "He's definitely a big part of what they can do, and what they can be."
What many UK fans will be hoping for and expecting is for the No. 4 Cats to impose their will on the struggling Tigers. After losing their first game of the season on Jan. 26, the Cats have jumped out to big leads in their next two games against Vanderbilt and Ole Miss.
The Cats led by at least 18 points in both games, but also let both opponents stick around before finally putting them away in the second half. Sophomore guard Darius Miller said he believes the start of those problems come from the defensive end of the floor when the team has a mental breakdown or slip-up.
"Just times we don't keep up the intensity, we start to slack," Miller said. "We make mental mistakes at times. Like you said, we just don't play the whole full 40 minutes. Hopefully we put that together tomorrow."