Scholar says teaching quality needs a major overhaul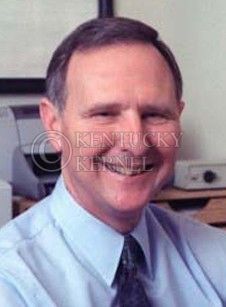 By Drew Teague
Many students feel they spend hours wasted in the classroom, a complaint a leader in the economics field feels is valid.
"Time spent in school where you don't learn anything isn't worth anything," said Eric Hanushek, the recipient of the 2010 Distinguished Scholar Award from the UK Martin School of Public Policy and Administration.
Hanushek, a professor at Standford University, spoke Tuesday in a lecture entitled "Will U.S. Schools Bring America Down?" in the W. T. Young Library Auditorium. Hanushek discussed how American schools are not performing as well as many international schools and  gave suggestions on ways to improve the gap between the countries.
"Canada looks kind of like us, but Canada is that much further ahead of us," Hanushek said, referring to international testing scores.
"Yes, it really does matter how much students know," Hanushek said.
To prove his point that U.S. students are behind the times when it comes to schooling, Hanushek used research based on different international tests in math and science.
"We don't care about what people know in their school, but what we really care about is what they know about when they're in the job market," Hanushek said.
Hanushek offered several solutions to the problem, including having better teachers in the classrooms.
"We need to do it to focus on improving teaching quality," Hanushek said.
Having a good teacher three to four years in a row, Hanushek said, can completely eliminate the gap between scores in economic classes.
"Families are important but good teachers can help close the gap," Hanushek said.    By replacing the bottom 6 to 10 percent of the bad teachers at each school in the U.S., we can have our students be more like those in Finland, which he said has the best schools, teachers and test scores in the world.
Jacob Fowles, a fifth-year doctorate student in the Martin School, introduced Hanushek to the crowd. Fowles said it was an easy decision to pick Hanushek for this year's Distinguished Scholar Award, as Hanushek is, "highly applicable to today."
Fowles also said Hanushek has "always been known to be a straight shooter," since his life's work has been spent on teacher quality in schools.
Bethany Paris, a first year doctorate student with the Martin School, was glad she came to the lecture, and said that it was "validation that the best teachers are the most important."