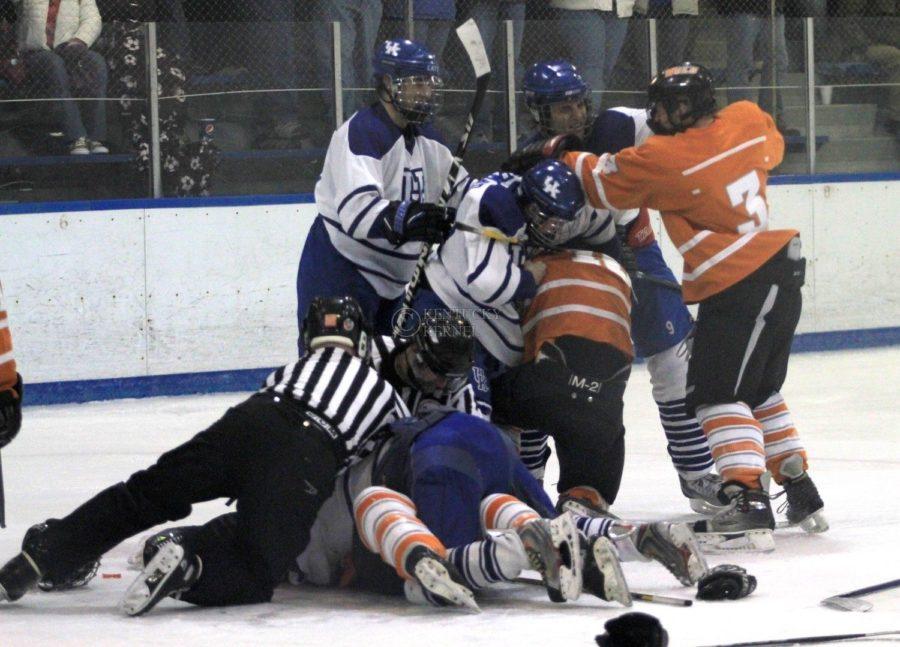 It was just another goal — for a few seconds.
After junior Sean Wormald netted the Cool Cats' fifth goal of the night, it started to play out like any other goal. The crowd cheered, the players circled up and hugged, and the fans warmed up for another round of chants.
Five seconds later, three pairs of players were fighting on the ice in a blue-and-orange swirl of tossed helmets and thrown fists. Senior forward Nick Skuraton, Wormald and freshman Dylan Rohar were the involved players for UK. All six players involved were assessed a player misconduct penalty and were ejected from the game.
UK (22-8) topped D-III Tennessee 9-3 in a game where fists and elbows overshadowed pucks and sticks.
The Cool Cats rode evenly distributed scoring and stout defense to a win over their rival.
"Tennessee's a rivalry game no matter what sport it is," UK head coach Rob Docherty said.
Anthony Simandl had simpler words to describe the opponent.
"Forget Rocky Top," he said.
A month ago, Simandl was on the practice team with a jersey that did not have his name stitched on the back. Saturday, he scored his first career home goal in the third period to put UK up 7-3.
"I'm on top of the world," Simandl said. "I didn't really see what happened. I just know it hit my stick and went in. It felt great to hear the crowd roar for my goal."
Simandl was one of seven players to score on the night.  It seemed as if any given player was scoring in any given way. Defenders and forwards found a multitude of ways to add to the scoreboard, from long-distance snipes to net-crashing surges.
"Even scoring is what you want," said Taylor Vit, who scored two goals. "Every team is better when everyone gets in on the goals."
After Wormald's goal that preceded the ice rumble, UK proceeded to outscore Tennessee 4-0 in the third period.
"I think it motivated the team," Wormald said. "It got everyone's adrenaline going, took our game to the next level and we really came out fired up in the third period."
With an entire starting line out for almost half of the game, the team had to adjust accordingly.
"After a whole line gets ejected it's tough to play with only three lines," Docherty said. "We had to play shortened shifts and play smart hockey to make it work."
The Cool Cats saw this game as a possible turning point with the season entering the homestretch. After a prolonged series of frustrating losses and no answers, the team believes the game, and the fight, could be exactly what was needed.
"It could be a spark," Vit said. "It definitely brought us together as a team. It could be that one moment that turns things around."