The silent treatment: Environmental group signals for change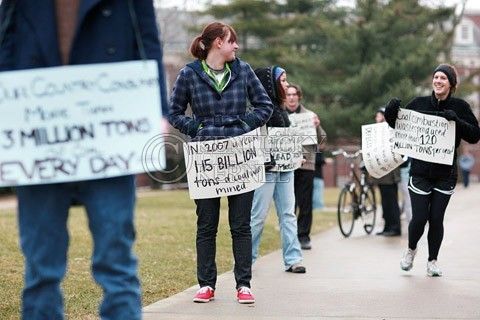 Coal is a hot topic of discussion on UK's campus, but on Tuesday, one group of students let the numbers do the talking.
Students with UK Beyond Coal, a campaign started this semester by the Sierra Club and UK students advocating alternative energy, stood along a sidewalk between White Hall Classroom Building and the Ralph G. Anderson Building from 10:45 until 11 a.m. and advocated powering UK with renewable energy rather than coal, but they did not speak a word.
The students stood silently holding signs with coal statistics from the Environmental Protection Agency written on them. The signs carried information about the amount of coal mined in the U.S. per year, the amount of coal used in the U.S. per day, and health and environmental statistics.
"We wanted (the demonstration) to be informational and encourage students to research more on their own," said Becca Barhorst, a political science freshman and event planning coordinator with UK Beyond Coal. "We just presented the information. We didn't talk. We didn't say anything."
Miranda Carter, campaign organizer for UK Beyond Coal and employee of the Sierra Club and Green Corps, said the goal of their efforts is to have a meeting with UK President Lee Todd and ask him to pledge to identify a renewable energy source that could power campus and to implement that source of energy by 2015.
"UK has the chance to be a leader in energy innovation and to do great things," Carter said.
After the demonstration ended and the signs had been gathered, Barhorst was pleased with the event and said she could see people reading the signs as they walked to class.
But another group of students saw the signs, too.
Mechanical engineering professor T. R. Tauchert said he rescheduled his class to allow his students "an opportunity for them to discuss their opinion."
A group of about 25 mining engineering students approached Barhorst, Carter and a dwindling group of UK Beyond Coal representatives. Despite the cold, Barhorst and Kyle Beck, a business junior, began a discussion with the group of mining engineers.
"I was worried at first that it would be a yelling match, but it wasn't like that at all," Beck said. "Each side wants to bring up info and inform the other side. It was nice. We shook hands and all that."
Beck said he exchanged contact information with a few of the mining engineers and they agreed to meet at a later time to talk further.
Barhorst and Carter said 509 people on campus have shown interest in getting involved with UK Beyond Coal. At the beginning of the semester, the group began its campaign by sending postcards from 824 students to Todd urging him to move UK away from coal as a source of energy.
"All we want is what's best for UK … but we're in coal country," Barhorst said. "You will find the majority of people in Kentucky are for coal and it's understandable. We just want to inform campus and get people involved."