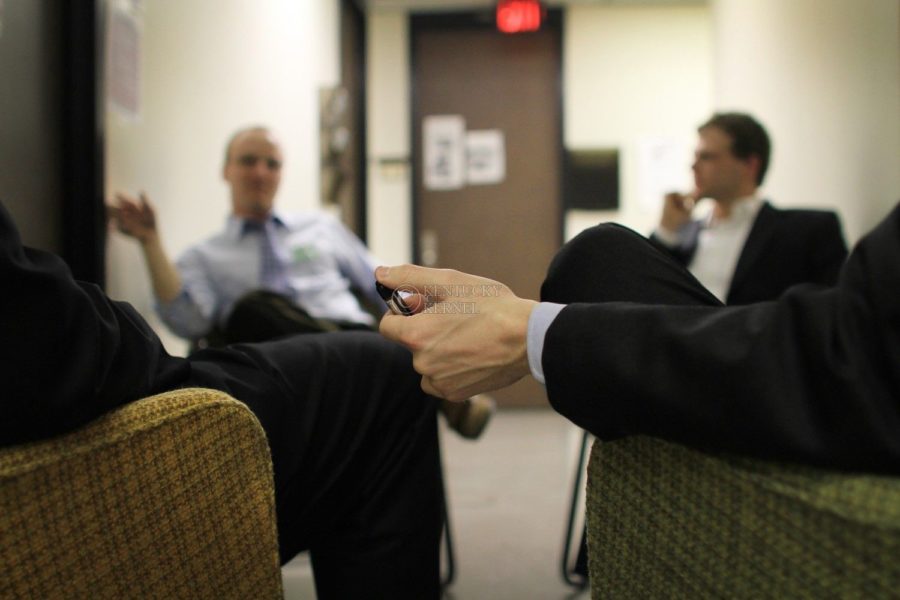 Israel attacked Iranian nuclear facilities at noon on Friday. Diplomats from Iran, Israel, the United States and other delegations met in the Patterson Office Tower to solve the crisis.
You won't find anything about the attack on CNN or the New York Times, though.
Graduate students from the Patterson School of Diplomacy participated in a 24-hour crisis simulation in POT beginning at noon on Friday as part of their graduate course study.
John Stempel, senior professor of international relations, said the Patterson School has been running simulations for seven years, although the format has changed to accommodate the times. When the program began, all participants represented the United States. Now the simulation takes a more international perspective, he said.
The goal of the simulation was for students to learn to make decisions on a moment's notice, Stempel said. Students learn to write memos, deal with the press and press statements, and hurdle over unseen obstacles, he said.
Students divided into seven delegations from Israel, Iran, Iraq, Saudi Arabia, the United States, Russia and the United Nations. Within each group, the students accepted positions and were given goals to accomplish by the end of the simulation, said assistant professor of the Patterson School Robert Farley.
"Going to school is not at all like being in a bureaucracy in Washington," Stempel said. "Our kids will go from here straight to the foreign service, to Congress, the CIA or the Defense Department."
Members of the Israeli delegation were given the details of the simulation Thursday evening, giving them little time to prepare. They were told which country they would represent only three days ahead of time.
"I think our delegation represented the interests of our country in a realistic manner," said diplomacy graduate student Leila Brandon.
Farley said he believes the students lived up to expectations.
"I think they did an excellent job last night," Farley said. "Especially since it was a very difficult situation going all night for most of them."
Undergrad journalism students also took part in the simulation, acting as varying world news organizations.
Under the supervision of associate journalism professor Scoobie Ryan and assistant professor Kakie Urch, students ran two separate online news Web sites, the International News Network and Gulf News. During the simulation, students uploaded stories, photographs and videos of speeches and news releases.
"Right now, I'm running the Gulf News," journalism senior Sarah Wilder said during the simulation. "It's hectic, but it's been a lot of fun."
Journalism senior Evan Crane said most newsrooms include a staff equipped to handle whatever needs to be done. Crane said UK's journalism program has prepared them to handle the simulation.
"The biggest part about this simulation is that you stay calm and stay direct in what you want to do and get it done as accurately and as fast as you can," Crane said.
After the simulation ended, students walked away with tired eyes and wiser minds.
"I learned a lot," Brandon said. "It was a good exercise and it kept us on our toes."