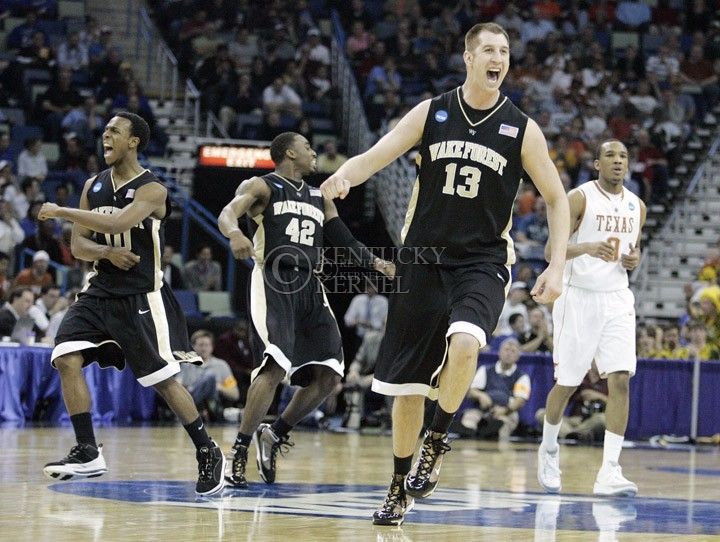 NEW ORLEANS – Next up for UK are the Demon Deacons of Wake Forest.
A jump shot by Wake Forest guard Ish Smith with just over one second left on the clock gave the Deacs an 81-80 victory over Texas.
Back-to-back 3-pointers by J'Covan Brown and Jordan Hamilton and two free throws from Damion James gave Texas an eight-point lead with just under three minutes left in overtime. Wake Forest closed the game on a 13-4 run though, highlighted by Smith's jumper.
Wake Forest dominated the rebounding battle, pulling down 56 boards to Texas' 32. The battle down low against UK (33-2) will be one to watch. Wake Forest forwards Chas McFarland and Al-Farouq Aminu vs. DeMarcus Cousins and Patrick Patterson should be a delight.
Aminu finished with 20 points and 15 rebounds against Texas. He also hit two 3-pointers.
Wake Forest head coach Dino Gaudio said he saw UK freshman guard John Wall, a Raleigh, N.C., native, play "eight kazillion times" in high school and in AAU ball.  Gaudio is also good friends with UK head coach John Calipari, who was close with the late Skip Prosser, Wake Forest's former head coach and a fellow Pittsburgh native. But he hasn't seen any tape of the Cats, yet.
"I have not seen one second of Kentucky tape," Gaudio said. "But we'll see a lot of it between now and day break tomorrow."
While the Cats have had their fair share of the dramatics this season with comeback wins, overtime games and late game heroics, the Deacs have now played in five overtime games – and have won each one of them. Combined, UK and Wake Forest are 7-0 in overtime games.
Gaudio and Smith said after the game, their win allows them to fight another day.
"(UK is) just really, really good," Gaudio said. "They're very well coached and it will be a challenge for us."