Drop the charade: Senior Day about more than seniors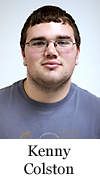 Let's stop the charade we've been playing in college basketball for the past few years when it comes to the last home game of the season.
You know what I'm talking about — Senior Day.
The event that once celebrated the fact that college kids stayed four years, completed degrees and more all while playing in the same uniform is over.
It died with the infamous one-and-done rule. Yet every year, we dig the body out of the grave and parade it around for a few weeks in late February and early March.
Why?
Don't get me wrong, UK seniors Ramon Harris, Perry Stevenson and Mark Krebs deserve recognition. Harris and Stevenson have seen two coaching changes and a program in shambles, so they deserve a framed jersey and anything else UK can afford to give them.
Krebs made the transition from walk-on to scholarship player. Please give him something, too.
But the guy who will probably be cheered the most isn't a senior. Yes, he's graduating with a degree, but he did it in three years. That's incredible, without a doubt.
But Patrick Patterson is not a senior. He has not worn a UK uniform for four years. His three years of service on and off the court are of role model quality, but his tenure doesn't fit the name of the event.
And on a side note, if you think freshmen John Wall and DeMarcus Cousins don't deserve the same treatment as the aforementioned, you're crazy. Those two have done more in one year for this program than anyone else in recent memory.
So, here's a suggestion for Senior Day: change the name.
Call it something generic like Player Appreciation Day, Meet the Cats, UK Family Appreciation Day, etc.
Obviously, you don't want to honor a transferring player. But let's celebrate whoever is leaving UK for positive reasons, such as graduating in three years, using up all four years of eligibility or being two of the best freshmen UK has ever seen as they leave after one year for the NBA.
Does it ruin the purity of Senior Day? Of course. But it's already been ruined. College basketball isn't a four-year sport anymore because the best players leave after one or two years. In fact, Patterson's three-year wait for a player of his caliber is almost as surprising as having three seniors on a top-three team.
The goal here is simple: let everyone have fun. Wall's mother has earned the same right to be honored as Tywanna Patterson and the parents of the three seniors when it comes to seeing their sons recognized for great accomplishments.
So, let's cut the charades. Celebrate everyone who has put the Cats back at the top of the Southeastern Conference and the college basketball world.
Everyone's contributions should be showcased for the world to see. Just because one particular player doesn't need four years at UK to develop his game doesn't mean he should be ignored.
The guessing game's over. Senior Day should be, too.
Kenny Colston is a journalism senior. E-mail kcolston@kykernel. com.