Two teams, one mission: Cats driving for a title with nothing to lose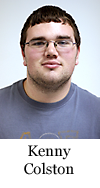 If you've been hearing this word for the past couple of days, forgive me, but there's only one way to describe  UK basketball in the last 72 hours:
Sweet!
Quickly, name the last time both the men's and women's basketball teams were in the Sweet 16 of their respective tournaments since both expanded to 64 teams?
Got the answer yet? Here, let me help.
Never.
Wait, what?
That's right, the turnaround that both Matthew Mitchell and John Calipari are orchestrating has never been accomplished before.
And here's how they are both doing it: with transfers and freshmen complementing the old guard.
The men's team welcomed six newcomers including five freshmen and one transfer who have complemented what Darius Miller and Patrick Patterson were already doing.
For the women's squad, add in Keyla Snowden, Rebecca Gray, A'dia Mathies and Crystal Riley as the main contributing newcomers to balance Amber Smith and Victoria Dunlap.
Both teams are dominating opponents and streamrolling into the regional semifinals. The only differences seem very small, with the men breaking in a new coach (Mitchell's obviously been around for a few years) and one team accomplishing the feat 12 hours away while the other sealed the deal one hour down the road.
Otherwise, it's hard to see major differences.
Both teams have the Southeastern Conference Freshmen of the Year and SEC Player of the Year. They both have a good point guard, a dominating post game and a wing player who can toss in anywhere from 10 to 30 points a game. They're both young teams.
And the biggest similarity may be that no one outside the Commonwealth's boundaries thought either team would make it this far.
In the preseason, Mitchell's squad certainly was picked to finish second to last in the SEC, much less second in the East division. Getting to the tournament was seen as a wish. Getting to the Sweet 16 of that tournament? Let me know when pigs fly, OK?
For Calipari's squad, they were picked as the first No. 1 seed to be bounced from the tournament. They're still standing. Kansas, on the other hand, is back home.
Two teams, one university, one playing mentality — no one has our backs outside of our team and our fans.
Need proof? Listen to Mitchell after his team's win on Monday night.
"Before the game, I told them I was afraid that this could be the last game we play together," he said. "We couldn't play with any fear, we had to put that behind us and I thought they played remarkably confident tonight for this situation. I didn't think any fear crept in at all."
And before the Cats matched up with Wake Forest, Calipari kept on one singular talking point: Every talking head says we're going to lose this one and be the first No. 1 seed out of the tournament.
The worst team to play in any game is the team that has nothing to lose.
These Cats have nothing to lose. And those teams are the most dangerous to play.
UK basketball. How sweet things have been.
Good news for fans is, this is probably only the beginning.
Kenny Colston is a journalism senior. E-mail [email protected]