UK season night and day from last year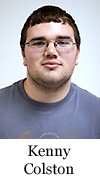 How would you like to trade Memorial Coliseum for the Carrier Dome or another, better basketball locale?
With a few changes, like a new head coach and six super recruits, consider it done.
That is the difference between this time in 2009 and now.
One new ambassador head coach and six recruits to mesh with the holdovers.
It's the difference between one day of rest and a solid NCAA footing and playing for a tournament life.
It's the difference between hosting an National Invitation Tournament game in your old arena and playing on a neutral court.
And boy, it's a big difference.
Yes, the Cats may play on the toughest side of the Southeastern Conference Tournament bracket, but that's nothing to worry about. The hottest team in the SEC can't hold a candle to UK, even if the Cats play at 75 percent.
So instead of talking about playing in Memorial Coliseum for the first time since Joe B. Hall patrolled the sidelines, Big Blue Nation is chatting it up about where to book hotels — St. Louis, or Syracuse, N.Y., (and possibly Indianapolis, too).
And let's put one notion to bed, right away. UK head coach John Calipari may say the conference tournament doesn't mean anything to him or his team, but that's out of context. Listen to other quotes, he knows his team needs to make it to the title game to secure a No. 1 seed for sure. And if you're in the title game, why not win?
In essence, what Calipari is trying to say is that the NCAA Tournament is a bigger goal, a more important objective. The SEC Tournament matters, trust me.
But the fact that many UK fans have gotten upset over those quotes points out one thing: when a team doesn't need to worry about winning a conference championship, they're doing something right.
We couldn't say the same thing last year.
So take a deep breath and enjoy the conference tournament in Nashville, regardless of if UK wins or not.
Last year, they had to win it all and the pressure collapsed on the team.
This year, they don't need to. They probably will, just to secure a No. 1 seed, but they don't have to.
What a difference a year makes.