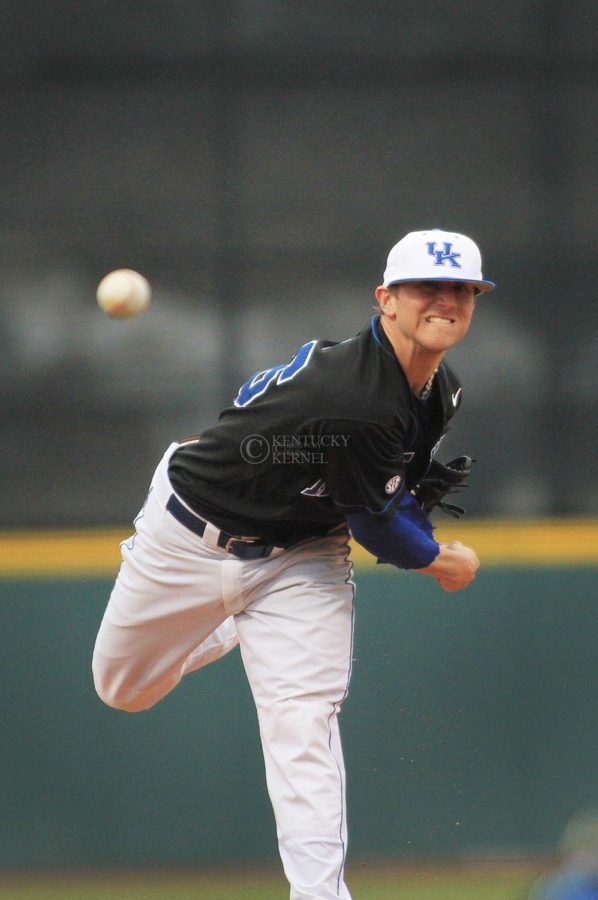 With the last frame in mind and the game on the line, UK entrusts its bullpen to lock down the win.
When UK head coach Gary Henderson strides from the dugout to the mound and raises his arm in a single-handed summoning of a relief pitcher, UK feels the game is in good hands.
"The biggest part of the bullpen is having someone you can count on to be effective," Henderson said. "That guy is Matt Little."
A right-handed junior, Little has emerged as a big-time pitcher in big-time situations. He's picked up three saves in three attempts this year, allowing just one earned run and striking out 14 through 11 innings.
He feels the game is in good hands when he enters, too.
"I wouldn't say the game is over," said Little about having to close out a game.  "But I like our odds. I trust my stuff."
Entering the game with the pressure bulging in the ninth inning, it is that confidence that is needed for closers.
"When you get called on it's going to be one of the biggest spots in the game," Little said. "How you do can be the difference between winning and losing. That's what I love about the bullpen.  I want the ball in my hands."
Little, who was named one of College Baseball Newspaper's three national players of the week, is more than the traditional one-inning specialist. On Saturday, he showed his versatility coming out of the pen, throwing four shutout innings against Monmouth while his team rallied from a six-run deficit to pick up the win.
"You never know when you're going to get called on," Little said. "I'm here to do whatever the team needs. I'm just trying to get zeroes on the scoreboard."
But there's more to a bullpen than one lockdown closer. Depth can be the difference between an airtight bullpen and a leaky one. The Cats have multiple arms that can bridge the chasm between starter and closer, including sophomore Braden Kapteyn.
"The biggest chance is we have more arms," Henderson said. "We have an older Braden Kapteyn, we have some new pitchers and we'll get to give guys an opportunity to play as we start playing midweek games."
Kapteyn, although not a full-time relief pitcher (he also plays first base and is often used in the designated hitter spot to get his bat in the lineup), is a dependable arm in the bullpen.
As a freshman, he earned a team-leading four saves. He's picked up one save this year when he bailed UK out of a bases-loaded, ninth-inning jam against Bowling Green on Feb. 27.
"Our bullpen is a lot stronger than last year," Little said. "A big part of that is our depth. We have lots of guys who can come in and shut opponents down."
The improved bullpen was tabbed as a key for UK in the preseason. Last year, ravaged by injuries and lacking solid depth, the bullpen was a lock waiting to be picked by rallying opponents.
Henderson cautions that the season is young, and unexpected things can and will happen. But so far this year, the bullpen has been a lock holding sturdy against the prods and pokes of opponents.
And it might turn into a near-impenetrable safe as the season progresses with the return of junior Nick Kennedy, a right-handed submariner who is currently injured.
"Ten games into the season, 46 to go, the bullpen is still in flux but it's off to a pretty decent start," Henderson said. "It's got a chance to be a strength. If we can get Nick back, get him healthy, it has a chance to be better."