Lexington celebrates the luck of the Irish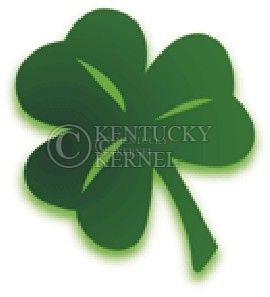 With warm weather right around the corner and spring fever overcoming UK's student body, one cultural group is offering a day of festivities in downtown Lexington.
Alltech's Lexington St. Patrick's Parade and Festival is coming in full force on Saturday to celebrate the Irish holiday. The event is put on by the Bluegrass Irish Society as a way to celebrate Irish heritage and bring the community together.
Running from 11 a.m. to 7 p.m., the festivities will include family games, booths and authentic Irish food and refreshments. A break will occur at 1 p.m. for the annual parade.
Crafts, displays and other various activities blanket the streets of downtown Lexington for the day as the Bluegrass Irish Society helps to show off their St. Patrick's Day spirit.
Bill Enright, a member of the planning committee and coordinator of the annual parade, was enthused and had high hopes for the upcoming event.
"It's going to be a wonderful time for all ages," he said.
Enright hopes students take a small intermission from their Spring Break plans to come support the community and enjoy the free food and vendors ready to show off their Irish roots.
Enright said this event could help students diversify and broaden their horizons by watching a dance or indulging in an Irish dish, or maybe even a Guinness beer.
"It's free, and students like free. It's fun, and students like fun. So both together is perfect," he said.
The festival is important to the community because people will be able to experience the true meaning of St. Patrick's Day and everything the culture has to offer, Enright said. Dancers, pipers and musicians flock to the festival every year to display this culture's unique and distinct character.
"It's a celebration of Irish heritage and their contribution to central Kentucky," Enright said.
The festival will be held in the CentrePointe lot downtown. The parade forms on Midland Ave. near the Lexington Herald-Leader. It proceeds down Main Street and ends as it turns on Upper Street to Short Street and back to the courthouse.