Live chat: UK vs. Cornell NCAA Tournament Sweet 16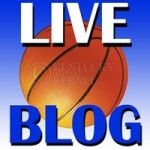 Join Kernel sports writers Metz Camfield and James Pennington for a live chat during tonight's NCAA Tournament Sweet 16 matchup between No. 1 UK (34-2) and No. 12 Cornell (29-4).
Two contrasting schools, two contrasting styles and two contrasting program histories will be going head-to-head in a football venue holding a basketball game (see, even that contrasts!).
The Big Red will be hoping to continue their current Cinderella run and win their third NCAA Tournament game in program history. They will be led by Louis Dale, a 5-foot-11 senior guard who averaged 12.6 points and 4.8 assists per game during the regular season.
The Cats will have to be wary of Cornell's outside shooting, passing and defense. UK's supreme athleticism and speed will be the calling card they will try to play in moving on to the Elite Eight.
So stop by, send us questions and comments and we'll try to get to them as best we can. Enjoy the game and enjoy the blog!