POSTSEASON PREVIEW: UK Hoops' turnaround equals high seed in NCAA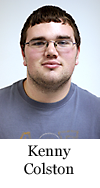 Raise your hand if you saw this one coming: a basketball team going from National Invitation Tournament regular to an NCAA Tournament top-four seed?
Matthew Mitchell, put your hand down. Obviously, you don't count.
To tell you the truth, my hand is one of those not raised. Before the season, I would have never guessed Mitchell would have turned the Cats from mediocre to really, really good.
Two years ago, I watched this same program lose an exhibition game to a bunch of thrown-together former women's basketball players and wondered how much longer Mitchell could last as head coach of the women's basketball team.
After this season, one in which the Cats finished second in the Southeastern Conference and are a lock to make the NCAA Tournament, my guess is for as long as he wants to be.
After a few seasons of decent play, Mitchell has righted the ship. The only thing keeping the UK women from the spotlight is the success of the men's team. But at the end of the day, the women's team, depending on the draw, has just as much of a chance to go deep into the Big Dance as the men.
How did Mitchell do it, seemingly overnight?
Truth be told, it wasn't that quick of a turnaround.
Players needed to graduate to allow SEC Player of the Year Victoria Dunlap to progress as she has and command this year's squad. They needed to move on to allow Amber Smith to flourish.
Mitchell had to work the recruiting trail and the phone lines to get his current roster. He took three transfers – Rebecca Gray, Keyla Snowden and Crystal Riley – at the expense of the 2008-09 season, but to the benefit of this year's squad.
And he got the state's best player, SEC Freshman of the Year A'dia Mathies, to wear blue instead of going out-of-state like many others have.
Mix that all together and the outcome seems to be what Mitchell has this year: a really good basketball team.
That was proven Sunday evening as the Cats nearly won their second SEC Tournament title over powerhouse Tennessee. At the same time, we saw that some work is still left over.
Regardless of whether UK gets upset in the first two rounds or the Cats make it to the Final Four, this season is a success for Mitchell. It's a cornerstone to build the program off of.
All the top players return for another season at the helm. They'll all be hungry for what they missed out on – SEC titles, maybe an NCAA title.
And they'll know what it takes to get where they want to be.
So enjoy the ride, UK Hoops fans. It's only up from here.
Mitchell and the Cats should play like they have nothing to lose (because they don't) and set a strong foundation for next year.
Because then we won't need a Drive for 5K, baking shows or seemingly weekly appearances by Mitchell on local country stations to get people in the seats.
The basketball will do the talking.
And we'll all raise our hands, saying we knew this was coming.