Live Blog: UK vs. Mississippi State – SEC Championship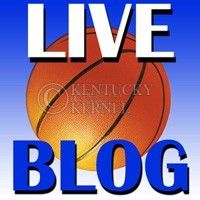 NASHVILLE, Tenn. – Join Kernel sports writers Metz Camfield and James Pennington for the live blog of today's Southeastern Conference championship game between UK (31-2, 14-2 SEC) and Mississippi State (23-10, 9-7 SEC).
The Cats won their lone meeting this year, an overtime thriller in Starkville, Miss., 81-75 on Feb. 16.
In that game MSU was missing one of their leading scorers, junior guard Ravern Johnson. MSU senior forward Jarvis Varnado missed much of the second half in that game with foul trouble as well.
The battle down low between DeMarcus Cousins and Varnado will be a matchup to watch, along with the guard matchups of Johnson and Dee Bost of MSU vs. John Wall and Eric Bledsoe.
So join in, ask questions or just post some comments and enjoy the game.
<a href="http://www.coveritlive.com/mobile.php/option=com_mobile/task=viewaltcast/altcast_code=ccd922c84a" mce_href="http://www.coveritlive.com/mobile.php/option=com_mobile/task=viewaltcast/altcast_code=ccd922c84a" >UK vs. Mississippi State – SEC Championship</a>