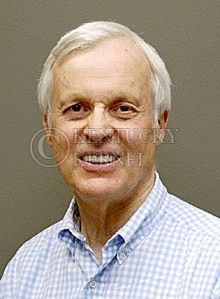 In a world growing hungry for international news, two seasoned foreign correspondents told future journalists at UK the world of overseas reporting is changing drastically, but the requirements are not.
On Thursday, reporters Christopher Wren and Stephen Handelman offered their experience to Terry Anderson's international reporting class. They shared reporting experiences, specific insight and lessons on what students should take from college journalism classes.
"There's really only one great job in reporting," Handelman said. "That's the job of a foreign correspondent."
An internationally-known investigative reporter, Handelman is the author of "Comrade Criminal," an in-depth look at organized crime in post-Soviet Russia. Wren, a 29-year veteran of The New York Times, has served as bureau chief in various cities including Moscow, Cairo, Beijing, Ottawa, and Johannesburg.
Handelman said the role of foreign correspondents has changed over the years because today's traditional reporters compete with live video and other broadcast mediums, especially the Internet. But he said the Web has added venues for new reporting outlets.
GlobalPost is a news outlet that hopes to embark "on a bold journey to redefine international news for the digital age," according to its Web site.
Handelman said the company will hire reporters who live in cities and countries across the world, pay them a certain salary and expect three to four stories per month. GlobalPost then sells those stories to other news outlets as well as publishing those stories on its Web site, but Handelman said those writers feel an increased pressure to find globally interesting stories.
"You have to get out and see it," Wren said. "The best reporters are the ones that go out and look for the story and dig for the story."
To meet the demand for reporters in the digital age, Wren said students need to approach journalism classes as a foundation for future growth. He said much of what journalists learn is gathered through real-world experience.
"Journalism school is not the answer, but it gives you a framework that you can use to go out and do your work in a way that you'd never pick up if you were doing something else," Wren said.
Handelman said reporters should use classes, real-world experience and natural curiosity to decide how and when to write stories.
"(Reporting) is really just an outgrowth of what you are as people," Handelman said. "So what interests you when you see something … are really the things that you want to write about … It's not rocket science."
Wren left the students with a simple lesson: dumb questions do not exist.
"The best stories you can get are when you say 'I'm sorry, I don't understand,' " Wren said.