Professor to appear on CNN's '360'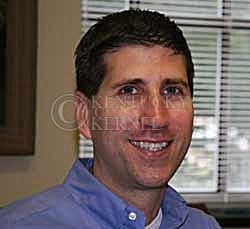 A UK professor will give his take on low student-athlete graduation rates Tuesday night on the popular CNN show "Anderson Cooper 360."
CNN contacted communications professor Alan DeSantis through UK Public Relations when the network was looking for professors with expertise in the area. DeSantis, who had been the faculty athletics representative for four years, will focus particularly on low graduation rates in men's basketball, specifically at UK.
DeSantis' role as the faculty athletics representative had two parts to its mission, DeSantis said.
"Being a champion for student-athletes' rights and maintaining a level of academic excellence," DeSantis said.
He placed some of the blame of low graduation rates on the tough traveling schedules of student-athletes, which causes them to sometimes miss multiple days in a row of class. DeSantis said the NCAA, CBS and ESPN contribute to the problem.
ESPN says teams that do not have at least a 40 percent graduation rate should not be eligible for post-season play, yet outlets like ESPN decide when games are played, and late times often contribute to difficulty in class attendance, he said.
Americans have a hunger for college basketball, DeSantis said, especially around March, which is feeding the problem of the media outlets pulling students from classes.
"(The outlets) tell our kids they have to play at 10 p.m. to satisfy the appetite of Americans," DeSantis said. "Before we start blaming the athletes, we need to change the system."
The university is doing its best to help the student-athletes graduate, DeSantis said, but there are some outside forces that administrators cannot control.
"We work hard here at UK to get students through, but we are doing it with one hand tied behind our backs," DeSantis said. "We as a university can't do anything about what CBS and ESPN dictate. This is through the NCAA."
Because ESPN and CBS decide when the teams have to play, and games make the networks money, stations are using athletes like they do actors — to entertain the public, DeSantis said.
"We need to define (the athletes') role as entertainers," he said.
DeSantis said March Madness is a particularly difficult time for basketball student-athletes, because they are pulled out of class even more.
"They may be (in class) only Mondays for five weeks in a row," DeSantis said.
DeSantis said the NCAA should limit when games are played to the weekends — Friday afternoons through Sunday.
The episode of "Anderson Cooper 360" featuring DeSantis will air on Tuesday at 10 p.m. Eastern Time on CNN.