Rule change allows APR wiggle room for UK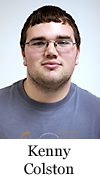 UK fans, rest easy.
If everyone on the current UK men's basketball roster stays academically eligible through May 8, the Cats will have a full allotment of scholarships for UK head coach John Calipari's second season at the helm.
Rumors have swirled about eligibility and UK's potential Academic Progress Rating ever since a UK player took the last shot of the season. Most of it has been false or a little off-key. Some of it has only been half-right, with the wrong formulas but correct outcome.
But all in all, as long as a player ends the season in good academic standing, the Cats are in good shape with scholarships.
Created in 2005, the APR is suppose to force athletic departments to graduate at least 60 percent of their athletes in every varsity sport in the department. That is reached by getting a score of more than 925 (out of 1,000). Athletes can earn a maximum of two points per semester, four total in an academic year. One point is awarded each semester for academic eligibility; another point is awarded for staying in school.
But recent rule changes have made the system even easier for coaches to make sure they hit the mark with the APR.
Originally, transfers and early departures hurt a school. Thanks to the changes, UK athletics spokesman DeWayne Peevy said that isn't the case anymore.
An athlete who finishes a semester in good academic standing will not hurt a school if they transfer or turn pro, Peevy said. Such a move would have made a school lose a point in the past, but now, the retention point dissolves completely.
For example, sharpshooter Jodie Meeks left UK after his junior year to play in the NBA. Because Meeks left in good standing, he earned a perfect 1/1 in his final semester, instead of earning a 1/2 score. Likewise, big man Matthew Pilgrim transferred to Oklahoma State in the wake of Billy Gillispie's firing, but because Pilgrim left in good academic standing, he too left with a perfect score of 1/1 in the final semester.
Confused yet?
Let me simplify once again — it doesn't matter if John Wall turns pro or Darnell Dodson transfers. As long as an athlete remains in good academic standing, he will not hurt his school's APR score.
The only exception is when an athlete leaves a school in bad academic standing. When that happens, it doesn't matter if the athlete drops out completely, transfers or turns pro — he's going to cost the school.
So it doesn't matter, academically, if UK is the first school with four one-and-done players or if only four players return for next season. If they stay in school until the very end and earn a 2.0 grade point average, UK is safe.
Originally, the APR and the NBA's one-and-done rule seemed to be on a crash course. One promoted academic excellence, the other, athletic excellence. The new rule changes the tracks from collision course to parallel paths. In fact, a school is awarded a bonus point anytime a former athlete comes back to finish a degree.
The trick is to keep the one-and-dones in school to the very end of the year. So far, it looks like Calipari has mastered that aspect. And it very well could be that what UK is about to see is an anomaly, not the start of a new trend.
Rivals.com's national recruiting analyst Jerry Meyer doesn't think the Cats' possible problem of four one-and-dones is necessarily a trend. The idea of four or more guys leaving a team at one time isn't new, (Meyer cited the national championship team of Florida, which lost its Fab Four as juniors, as one example) but the idea of four freshmen will be.
"(This) could be the year that starts the trend," Meyer said. "Depends on if a coach can get those players, not too many coaches are turning down those players. The only ones not recruiting them are the ones that know they can't get them anyway."
But the days of scholarship doom and gloom in the wake of recruiting those players are over. Recruit all the one-year players you want (and Calipari will). The trick isn't necessarily keeping them for another year, it's keeping them in school until summer break.
Do that, and a coach can have his cake and eat it too — coaching talent for miles, bringing home titles and acing the APR all in the same year.