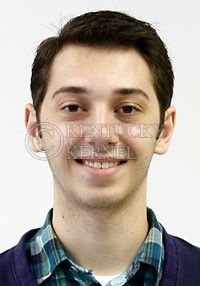 In the press box at Commonwealth Stadium during Saturday's Blue/White Game, Penn State's spring game was on TV. Standing in the right spot, you could see the score of Penn State's Blue/White Game and the scoreboard at Commonwealth.
The differences between the two Blue/White scrimmages were so many, it's unreasonable to even compare the two.
UK's version of the spring game finished with a score of 60-25, a blowout win for the offense utilizing a convoluted scoring system "designed" to help give both sides an even chance of winning.
UK head coach Joker Phillips said he initially planned on splitting the two sides into full squads — offense, defense and special teams — but because of injuries, enough players weren't playing. So the teams split: one was offense, the other defense. Off they went with a scoring system unfit for any sort of school-sanctioned, open-and-advertised-to-the-public event.
The offense was awarded every time it recorded a first down, whereas the defense was only rewarded if it forced a punt or a turnover. No points for sacks or tackles for losses.
After the game, Phillips defended the system. He said it was fair, and the defense needed to see the score and take responsibility in getting off the field.
Those on the field didn't agree.
Said defensive tackle Ricky Lumpkin: "A point every first down? What do you expect? That's skewed. That made it look like we did nothing. We did something."
But the scoring system was just one issue Saturday.
Overall interest in the Blue/White Game was low this year. It doesn't look like it will get higher anytime soon, either.
Reasons to be excited for football season were there Saturday. The backup tailbacks, Donald Russell and Jonathan George, were superb. Each of the three quarterbacks contending for the starting job looked strong enough to at least keep his name in contention.
Assuming you weren't one of the few who attended the game Saturday — the official attendance said 9,000 but it looked closer to 900 — this year's game didn't give any incentive to make the effort next year.
UK's game may never provide an atmosphere like Penn State's, which had 55,000 in attendance at University Park this weekend. And nobody could've held off the severe weather that rolled in just minutes after the players left the field.
But Phillips could have set up the game to be more competitive.
Now he's set up the season with much less anticipation than he could have.
After all these years, I guess Joe Paterno knows what he's doing.